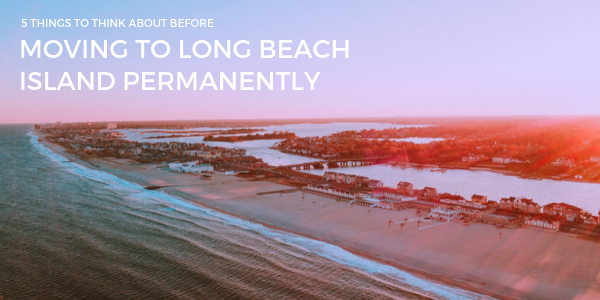 Moving to Long Beach Island on a permanent basis can sound like a dream come true. Instead of traveling to the surf and the sand, you will have the seaside right outside your front door. Before you relocate permanently to LBI, take note of the differences between vacationing at the shore and living there year-round.
1 - Styles for Year-Round Living
Year-round living in LBI calls for a different type of home than those who just plan to vacation for a week or two at the shore. Space is not as much of a concern during an LBI vacation since most days are spent at the beach. However, year-round residents will want open floor plans with ample room for entertaining. Open floor plans provide better ventilation to prevent mold and mildew from forming. Instead of a quaint "cottage" style home, you will want more comfortable inclusions like master suites and modern gourmet kitchens.
2 - Weather Protection Considerations
Moving to Long Beach Island permanently requires a different type of residence than a summer bungalow rental. Weather protection is a major consideration when designing a custom home at the shore. Zoning regulations require LBI homes to be built at a higher elevation in case of flooding or storm surge. Storm windows and shutters protect your property from damage during bad weather. Durable and high-quality building materials are needed to withstand the coastal elements. Roofing and flashing should be selected while keeping high wind conditions in mind.
3 - Storage Solutions
When you live at the shore year-round, your storage needs will be different. You'll need room to accommodate seasonal items including beach chairs, patio furniture, bicycles, and grills. Due to zoning regulations, there are very few off-site storage facilities nearby LBI. However, if you do need storage for your boat, local marinas do offer this service.
4 - Home Safety
In the summer months, the population of Long Beach Island grows from 20,000 to 100,000. Many residents of LBI actually choose this time to rent out their properties or vacation elsewhere. If you do plan to leave your LBI home for extended periods of time, you will want to enlist the services of a property manager to make routine checks at your home. Additional security features should be in place too such as timer lights and surveillance systems.
5 - Research the Area
LBI is bustling with activity during the summer months. However, the cooler weather doesn't mean the entire town shutters until Memorial Day. Many restaurants and pubs stay open throughout the year including the Oyster Bar and the Gateway. Attend annual LBI holiday events such as Ship Bottom's Christmas Parade or the Christmas Tree Lighting in Beach Haven.
Moving to Long Beach Island year-round is a decision you won't regret. Many permanent residents find they end up preferring the quiet beauty of the winter and enjoy the "off-season" just as much as the rest of the year. With the right custom home design, you will thrive in your new LBI residence for years to come.