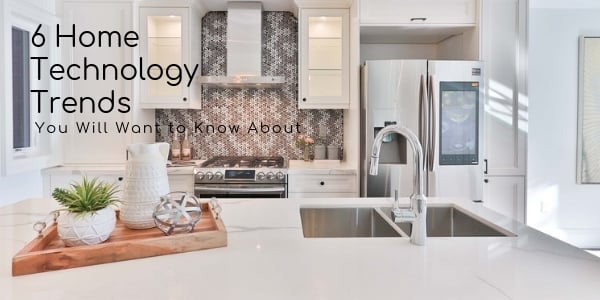 The ever-growing sphere of smart technology has dominated lifestyle trends for the last decade, and where houses used to be a veritable blind spot of digital inactivity (beyond a home computer, perhaps), new gadgets for the home are now dominating industry platforms. Check out these home tech trends you don't want to miss.
#1 Consolidation
Today's complex home systems can take once-separate entities (heating and air, security, lights) and integrate them onto a single touchscreen. View this example in which a homeowner can access and control 10 subsystems from a single screen, including lights, video, audio, cameras, front gate, and television screens. Imagine heating the pool for an evening swim or adjusting the volume on an upstairs television with the tap of a finger.


#2 Digital Assistants
For everything from ordering pizza to playing Mozart, modern homeowners use Alexa and other digital assistants. With Google and Amazon competing for top status, these products' commands and interfaces have become more convenient and user-friendly than ever. More importantly, these tech mammoths have planned on adding voice assistants to other products throughout the home—on toys, televisions, and toilets. Yes, toilets.


#3 Home Security
Forget about regular old video cameras, tech companies now have their sights set on a wave of upgraded products to keep you and your family safe. While the demand for video doorbells will continue to rise, sleeker versions (with high-resolution capabilities) are popping up. And if a view of the front door doesn't keep you secure, consider a drone security guard, smart lock, or home monitoring product with artificial intelligence characteristics.


#4 Energy Efficiency
More and more homeowners want energy efficiency, not just for their wallets, but for our planet. Up-and-coming systems can manage your home's power with sustainability and productivity in mind. For example, companies are creating off switches that eliminate standby power—that which an appliance consumes even when not in use. This energy suck is said to account for five percent of U.S. consumption.
Other energy-focused arrangements can shut down the refrigerator for short periods, slowing use while maintaining food's freshness. In addition, products exist that can study your daily habits, conserve energy when needed, and let you see sources of power and how they interact.
It might operate on a timer, for example, and shut down the hot water heater in the middle of the night when you don't need it.
#5 High-Tech Appliances
The computerized refrigerator is definitely one of the coolest new pieces of technology out there. With a transparent glass door, built-in computer screen and Amazon Alexa speaker, this handy gadget could show you recipes while you check fridge compartments for ingredients. As such, industry experts say computer-based appliances will expand to help in other rooms beyond the kitchen (imagine a washing machine that automatically dispenses detergent).


#6 Hidden Devices
While you want to use certain devices, you may not always want to see them. For this reason, homeowners are looking to products that can hide a large-screen T.V. when it's not in use, for example. Be it a display that drops from the ceiling or pops from a chest at the foot of the bed, these implements reveal the screen when you want it and disguise it when you don't.