There's nothing quite like an air show. The sights, the sounds, the smells. It's a perfect day full of death-defying feats by the best pilots in the world. Thankfully, New Jersey has plenty for you to enjoy. Here are a few of our favorites to put on your schedule.
Where Is the Next Air Show?
If you live in New Jersey and you love to see a good air show, you've got lots of choices to make this year. NJ airports put on great events, and they are lined up throughout the spring, summer, and fall.
1.
Atlantic City Air Show
Set aside August 24, 2022, for a trip to Atlantic City, so that you have plenty of time to enjoy the air show. This year, the title of the show is "Thunder Over the Boardwalk." You'll be sure to hear thunder, indeed, with all the Atlantic City events planned for the day. Last year, the AC Chamber of Commerce packed the day full of celebrations to service members. Although much of the world has paused for the pandemic, the U.S. Air Force Thunderbirds have spent that time improving their skills to create shows that are absolutely unforgettable. Look for updates to the lineup in the months to come.
2.
The Great Pocono Raceway Airshow
If you want to see an air show at the Great Pocono Raceway, you'll need to set a reminder for 2023. This two-day event happens over Memorial Day weekend, with plenty of opportunities to grab a snack at the concession stand and watch with the whole family. If you're familiar with the raceway, you know it as a super speedway with a famous track known as the "tricky triangle." On this weekend, you'll be able to turn your heads upward as you see amazing feats, headlined by the U.S. Navy Blue Angels.
Are we making you hungry? Check out these flyin restaurants near Pittstown and Alexandria NJ, perfect for pilots and hobbyists alike.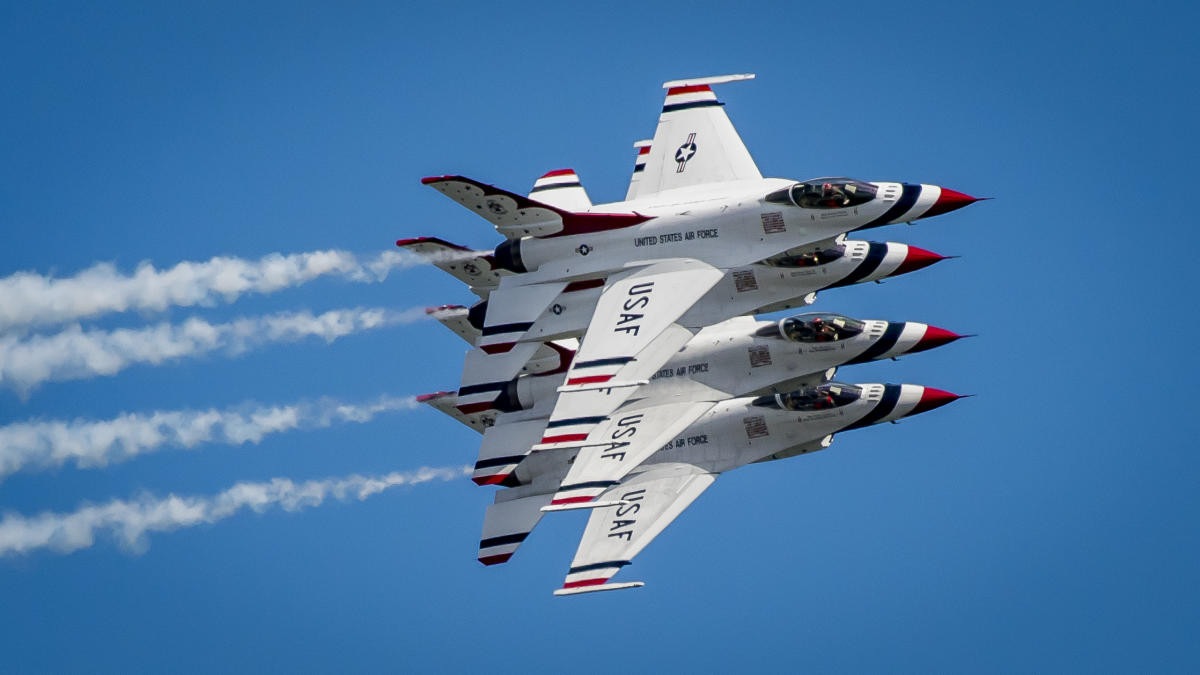 3. Millville Wheels & Wings Airshow
As one of America's first defense airports, the Millville Airport has been training fighter pilots since World War II. Each year, a local organization hosts an event designed to honor the pilots who have gone through training at the school. It's a great event for all ages, especially if you like to see a bit of history. For more information about events scheduled for 2022 and beyond, look for the Millville Army Air Field Museum. This organization hosts the event each year, and proceeds from the air show go to support the museum.
4. Ocean City Air Events
If you're looking for an opportunity to fill a weekend with fun and delight, Ocean City has a long list of events for you to see in September. Look for information about these exciting activities:
Ocean City Airport Festival
Parachute Pyrotechnic Show
Boardwalk Aerobatic Air Show
In previous years, the show featured a few historic aircraft from World War II, always a joy for hobbyists and history buffs. But you really can't miss the pyrotechnic show. It combines the best of multiple worlds: skilled pilots, demonstrators exiting the aircraft thousands of feet above the boardwalk, and creative and colorful explosions.
What Time Is the Ocean City Air Show?
As a general rule, the air shows in Ocean City run over a weekend in mid-September. It's a great time to enjoy the end of the summer season. When you search for events related to air shows in Ocean City, make sure that they're located at New Jersey airports. There's an annual air show in Ocean City, MD in June, but it's a completely different event.
What Time Does the Millville Air Show Start?
The Millville Wheels & Wings Air Show doesn't have a set date. Most years, the Millville Airport hosts the event in May, as it did in 2017 to 2020. However, for 2021, the airport chose to schedule the event for Labor Day weekend. The organization hosting the air show, the Millville Army Air Field Museum, has not published information about future events at present.
How Long Is the AC Air Show?
The Atlantic City Air Show only lasts one day, but what a day it will be! If you are arriving early to watch the show, keep in mind that the performers often use the day before to practice. You might be able to catch a glimpse of their routines on this day, although you won't be able to guarantee the timing.
How Do You Get Air Show Tickets?
Each air show handles ticketing in their own way. You may be able to buy tickets from a ticketing company, or directly from the organization hosting the event. Make sure that you are buying the tickets from an approved vendor.
Thinking of Building in a
Gated Community

Near

Sky Manor Airport

?

If going to an air show makes you wish that you could enjoy fly-ins to private airports in Pittstown NJ, you're in luck. At GTG Builders, we're delighted to help you build a custom home that's perfect for you. There's something special about airplane hangar homes, and you've got plenty of options, especially local gated communities. Check out our service areas, and contact us to find out the benefits of working with an expert custom home builder.