3 Min Read
Airplane Hangar Ideas for Your Custom Home In Hunterdon County, NJ
If you own an airplane or you're thinking about buying one, it's time to start planning where you will put it. Although you can often find a hangar at airports near Flemington NJ with space available, it's natural to want a little bit of control over your airplane when it's not in use. That's why private hangar homes are fast becoming the latest trend. Here are a few things you should know about hangar homes, as well as some ideas to help you brainstorm.
Can You Build a Hangar?
If the idea of renting space in a hangar makes you worry about your investment, you're not alone. A private hangar is a great way to ensure that your plane always has the space needed to enter, exit, and receive maintenance. As long as you have the land to support it, the right custom home builder may be able to create the perfect hangar for your airplane.
What Is Hangar Home?
A hangar home is as simple to understand as it sounds. It's an airplane hangar that also functions as a home. If you're ready to build a home with a custom hangar near the Pittstown NJ airport, check out our custom home building process.
Airplane Hangar Homes
You have a few different approaches you can make for your residential airplane hangar. One of the most popular involves making the airplane the major theme for the home. After all, not too many people own an airplane, and it offers you many opportunities you wouldn't get otherwise. It's an excellent way to create what your inner child thought the future might be and make it a reality in the present.
Metal Building Hangar Homes
Of course, you might want your airplane hangar house to go all the way, by using an old airplane hangar for your home. It's amazing to look at what homeowners have done with World War II-era hangars to make them comfortable and stylish. If you like a Mid-century Modern or retro aesthetic, you might find that period hangars provide the perfect canvas. Converting a metal building into a house is also highly efficient and sustainable. A design-build remodeler is an excellent choice for this project. If it happens to be on the lot you're looking to buy, even better.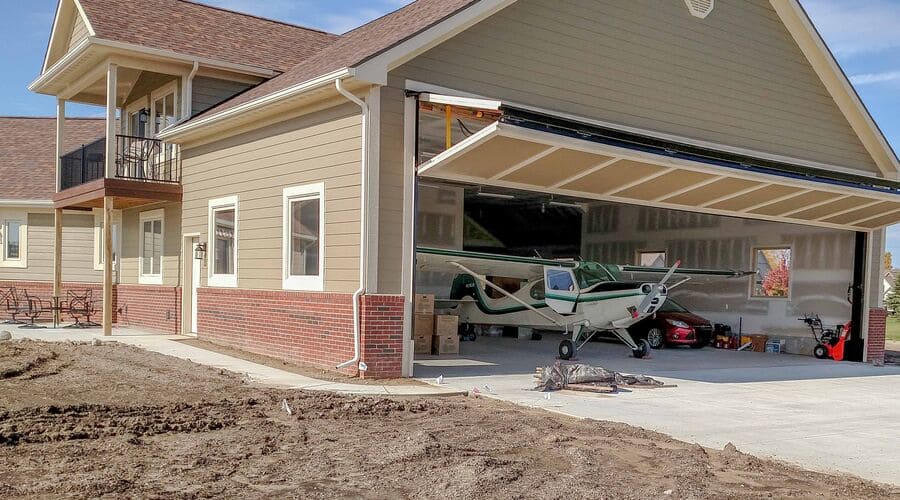 Homes With Airplane Hangars
Although modern hangar homes often make the hangar a focal point of the design, you don't have to build a home that looks like it was repurposed from a decades-old foreign war. There's no obligation to build along a minimalist or mid-century theme unless you want to. If keeping a hangar on your property is more about convenience than style, you can treat it like a larger garage or outbuilding. Wondering if now is the time to build a custom home? We can help you make the right choice.
Hangar Home Designs
Ultimately, you need your hangar house plans to meet your needs and provide the best place to keep your airplane. That's why it is so important to work with a custom home builder. We can take any lot, whether it's close to Sky Manor Airport Pittstown NJ, or meant for your own airstrip, and design a home that makes your dreams come true.
How Much Does It Cost to Build a Steel Airplane Hangar?
The cost to build an airplane hangar varies by where you live. Keep in mind that a hangar may not include much more than an exterior structure meant to protect an airplane from weather-related damage. There may, however, be strict building and fire codes that require use of certain fire-resistant materials. Often hangars have large garage doors which can be rather costly on their own. If you want a lot of extras, you can plan to pay more.
Can You Live in a Hangar?
Living in an airplane hangar could be as luxurious as you can imagine. And you might be surprised by how many homeowners are doing just that.
Fly-In Communities
Wondering if you should build in a community or on your own lot? The perks of a fly-in community are numerous. Fly-in communities are exclusive, just like any other community you might choose for your custom home. Each home includes private, covered parking for your airplane and access to the airstrip. Since everyone in the community has their own airplane, you find instant community with your neighbors. If you want relatively exclusive access to an airstrip without having to find a separate hangar for your plane, they're an increasingly popular option.
Private Airstrip
You might also decide that you want to build your own airstrip. There are tens of thousands of airports in the United States, and the vast majority of them are privately owned. Private airstrips are convenient because you don't have to coordinate schedules with anyone else. It's worth noting that they take a big lot to make it work. If you want your own airstrip, you'll need to find land for a custom home that is large enough for a runway.
How Much Would It Cost to Build a Hangar Home?
The cost to build a hangar home depends on the location, land, and the type of house you want. At GTG Builders, we can help you create a custom home budget that will address all of your needs and more. You don't have to spend your energy sitting at the Sky Café Pittstown, wishing you could walk out your door and climb straight into your airplane. We build custom homes across New Jersey, and we're happy to help you make yours a reality.