3 Min Read
Build Your Next Custom Home Near Sky Manor Airport in Pittstown, NJ
If you would love to build your home near an airport, you should know that you're not alone. Homeowners are as unique as the places they choose to live, and there are plenty of people who love quick access to travel. Being a pilot of your own airplane just makes your choice a little more obvious. Here are a few reasons to consider building your home closer to the runway, particularly in Pittstown.
Can I Build My House Near an Airport?
While a lot of homeowners want to keep their homes some distance from the airport, there are plenty of flight enthusiasts who would love to build a home closer. These days, the concept of being able to take your plane directly from home to the airstrip and back is the height of high-end living. There are several benefits to hiring a design-build firm, including the ability to get precisely what you want. If you love to fly your own airplane and you're looking for the right opportunity to make it more practical, living close to an airport is a necessity.
Airplane Hangar Homes
If you really want to go all in, you might consider building an airplane hangar house. Who wants to pay to rent a spot in a hangar, with other vehicles leaving at all hours when you could have a hangar home to keep it close? Hangar homes are an excellent idea if you want a private airstrip, or if you just need to cut out a few steps between yourself and a quick takeoff. You can build it to resemble an old-fashioned hangar, or incorporate space for your airplane into practically any contemporary home design.
If you're considering building a private airstrip, you'll need to find land for a custom home. Here are a few tips.
Fly-In Communities
Of course, not everyone has the ability or the interest in building a private flying strip. Some pilots also like the community that comes with building near a group of people with mutual interests in flying. For that, you might want to consider a fly-in community. Fly-in communities usually have access to a small, public airstrip, or they build one of their own for use by all members of the community. It's a great way to make new friends, explore unusual places, and it helps to keep your budget at a manageable level.
Thinking about building a house in a community? We help you make an educated decision.
How Far Should My House Be from the Airport?
The proper distance between a house and an airport depends on the airport and the homeowner. If you're not sure whether you will enjoy living close to a busy airport due to the noise, you're better off building at least a few miles away. By comparison, if you're interested in learning to fly, or you're a pilot with your own airplane, closer might be better. States set guidelines for the distance between a runway and another property, but on your own lot, you have a lot of flexibility.
Not sure if now is the time to build your custom home? We have all the details.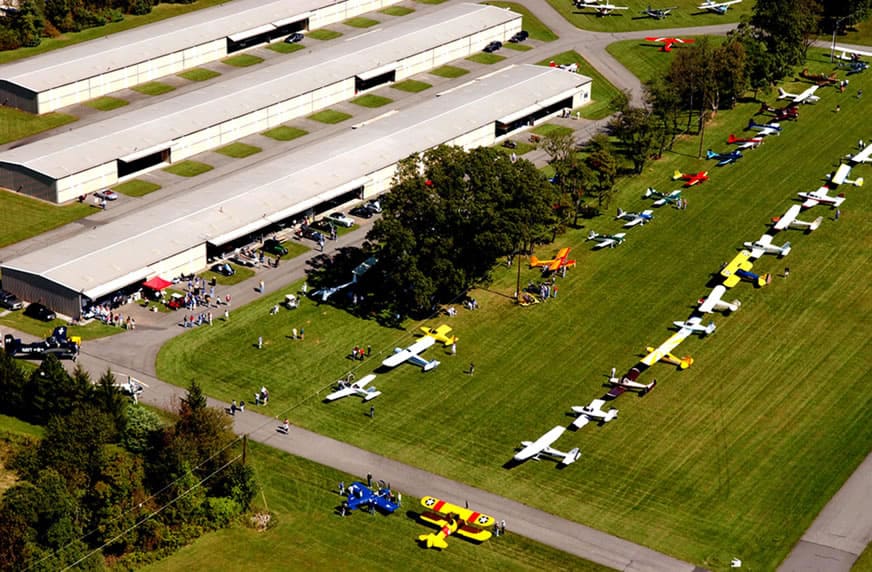 What Is Unique About
Sky Manor Airport

?

If you usually imagine large airports whenever you think about flying, it's important to remember that there are plenty of public-use airports that serve the local communities. Sky Manor Airport in Pittstown NJ is one of them. Built in the 1940s and now owned by pilots, the airport provides a convenient location for flight-related businesses and more than 100 aircraft in the community.
Benefits of Living Near a Public Airport
Large airports serve major corporations and passengers, but they aren't always well-suited to flight enthusiasts. If you want a hangar room, you'll have to compete with businesses with ten times the budget and the ability to contract with anyone. By comparison, if you're a flight enthusiast who loves the area, it's better to build near a thriving community of people just like you. Just ask at the airport cafes. Public-use airports provide easy access to services, like refueling or repairs. Every time you participate, you're helping the community grow stronger.
Wondering why you should work with a custom home builder? We can show you the advantages you get when you hire GTG Builders.
How Close Is Too Close to an Airport?
If you're not sure how close you should live to an airport, remember that it's mostly a matter of opinion. People who fly all the time love the convenience of a quick commute. Real estate experts say that homes that are within a couple of miles of a large airport should be noticeably cheaper than those that are several miles away. It's a good idea to keep this in mind as you browse for land for a custom home, especially if you're hoping to avoid a noisy flight path above your house.
Need to create a budget to build a custom home? We're happy to help.
Is It Bad to Live Next to an Airport?
Living next to an airport might be a dream come true, for the right person. Airport homes are convenient, stylish and becoming quite popular these days. At GTG Builders, we aim to serve all types of communities in New Jersey, especially those homeowners who love to fly. Our custom home building process takes care of all the details. Want to know more about our service areas? Here's a map to show where we build custom homes. Contact us to get started on your home project.