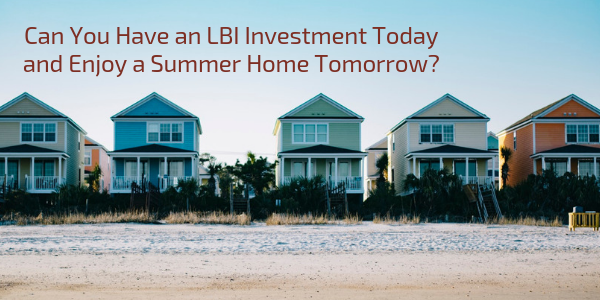 Long Beach Island is a place of natural beauty and valuable real estate. With sandy beaches, beautiful sunsets and salty air, Long Beach Island is a summer paradise that has long attracted home buyers and real estate investors. Many buyers choose to rent their property to vacation-goers in the summer, and live in their property the rest of the year. For these property owners, summer rental income helps pay the mortgage, and support a relaxed island lifestyle throughout the fall, winter and spring.
Amateur real estate investors in New Jersey consistently turn to Long Beach Island as the location to purchase their first investment real estate property. One of the key reasons they do this is the stable market for summer home rentals. LBI is one of the few areas in the world that allows you to purchase a property and immediately generate cash flow. The rental market on LBI is strong enough that you can live in the property from the fall to spring and have your mortgage covered year-round by high-paying summer renters.
Are you purchasing a real estate investment home in New Jersey in the near future? If so, here's what you need to know about buying on Long Beach Island.
Types of LBI Rental Properties
As you research LBI investment opportunities, you'll see three main types of available homes:
condominiums,
single family homes,
and multi-family homes.
Each type of investment property has advantages and disadvantages. Before choosing the type of property you'd like to buy, weigh the pros and cons of each.
Condominiums
Condominiums are generally modestly sized and easy to clean and maintain. Since the condo owner is only responsible for maintaining the inside of their condo and not the outside, condos are less work than most single family or multi-family homes. For an older couple or single person seeking beach-front property without the hassle, a condo is a smart choice.
The down sides? High-cost HOA fees reduce the overall value and cut into rental profits. Small size and close proximity to other rental units also make condos less attractive to potential renters. Condominiums can be harder to sell.
Single-Family Homes
Single-family homes represent a better investment compared to condos, because they're easier to sell and often sell for more money. Single-family homes are also more attractive to renters, because they're more spacious and distanced from neighbors. They can also accommodate larger groups that pay higher sums. If you have a family, children, or pets, a single family home offers more privacy and more space for your children during the weeks or months when you live there.
Because they're bigger, single-family homes are also harder to maintain and require more work from the homeowner. For a homeowner who has little time for home repair, a single-family home can be a burden. In addition, a single family home can only accommodate one group at a time, and may generate income if it is occupied. This puts pressure on the homeowner to keep the property rented throughout the vacation season.
Multi-Family Homes
Multi-family homes offer a high return on investment. Rental income is automatically higher for multi-family properties because multiple tenants can occupy the space and pay rent at one time. If a single unit is vacant within the multi-family home, the owner still collects rent from the remaining occupants. In fact, the landlord can even remain on the property in one of the rental units while still renting out other units in the property, giving the owner the option to live on LBI all year round.
Maintenance can be expensive for a multi-family property, and only the handiest (and most available) of homeowners will handle the maintenance themselves. Many must pay for a property management company or a handyman company to handle maintenance, which increases costs and eats into the profit.
In addition, financing options for multi-family homes differ from single family homes. Which loan options are available depends on the number of units within the property. Traditional mortgages are only applicable if the home has fewer than four units. For more than five units, a commercial real estate loan is required, which typically carries more restrictive underwriting rules and increased down payments and interest rates.
Read More: Flood Insurance for Your Custom Home in Long Beach Island]
Preferred Locations on Long Beach Island
Oceanfront, ocean block, and oceanside properties on LBI are the most successful in the rental market because of their proximity to the beach. Homes in these locations are rented out at a higher base rate per night than homes located farther away from the beach. Any location near the beach will always provide higher returns in the long-term. However, bayside properties are still a worthwhile investment and may turn a profit much sooner than oceanfront homes due to lower price points.
Beach Haven is a very popular resort destination during the summer months with LBI's top attractions located in the small town. Homes located near Fantasy Island Amusement Park and Thundering Surf Waterpark have some of the most expensive per night rental costs in the area.
Building a New House as an LBI Rental Investment
One of the savviest ways to invest in the LBI real estate market is to build a new home. Rental rates are always higher for new construction than older homes. New homes on LBI typically satisfy what real estate investors know as the 1 percent rule, which essentially states the monthly gross rent should equal at least 1 percent of the home's cost.
The cost of a new home construction project on Long Beach Island varies dramatically depending on lot size and location. Certain areas also have different requirements for setbacks. For instance, oceanfront areas on LBI usually have setbacks of 10 feet or more on each side. Easements also factor into the lot sizes available on LBI. As an example, a majority of Loveladies and North Beach lots are 100 x 100, but 15 to 20 feet may be reserved for easements.
Build the Property with Renters in Mind
If your goal is to make money from your rental property, build it for potential renters, with their needs in mind. Features renters like include:
Adequate space for cars.

Renters tend to gather together in groups, taking vacations with family and friends. Provide adequate space for everyone to park by installing a large, wide driveway.
Space for many guests to sleep.

Because renters gather in groups, they also need space for many people to sleep. Work with your contractor to maximize the number of bedrooms or number of rooms that can be used as bedrooms.
Open areas for spending time together.

Renters enjoy spending time in large, open areas when indoors, where they can gather together and be social with one another.
Outdoor space for relaxing and having fun.

An outdoor fire pit or even a pool can give your renters one more place to spend time having fun in the sun.
Luxury amenities.

Features like a Jacuzzi bathtub, wine fridge, kitchen island with counter seating, smart security features and wet bar are all features that renters enjoy on their vacation at the beach. Work with your contractor to design a home that is both fun and practical for people on their vacation.
Find the Right Contractor
Just as it's important to build a home that renters will find desirable, it's also important to build a home that is well-constructed, safe and high-quality. To do this, you must find the right contractor. Vetting contractors is critical. Meet with contractors months before beginning your construction project to discuss your ideas, budget and potential costs. When trying to decide which contractor to hire, consider all of the following:
Reputation.

How long has the contractor been in business, and have they won recognition or awards for the quality of their work?
Communication.

Do you feel the contractor is listening to you and understands your priorities?
References.

Does the contractor have references who can attest to their workmanship and abilities? The references you contact should be able to discuss that contractor's experience building a home.
As you talk to contractors about their experience building a house, ask them about their warranty and about the building process, from start to finish. The more you talk to a contractor, the easier it will be for you to decide whether that contractor is right for you.
Price isn't everything when you're building a custom home. Shop around, but remember that a good quality home will come at a fair price. It's better to hire a good, capable contractor than it is to get a good deal. For more information about building an investment property on Long Beach Island, contact GTG Builders LLC.
Good Luck!
Long Beach Island is a family-friendly vacation destination. There are so many positive qualities about the island that it's long been top-destination for families in New Jersey. Buying an investment property on Long Beach Island can help you reach your financial goals of paying for your new home with rental income. By choosing a smart location and a modern well-appointed home, you can expect the value of your home to appreciate with time.