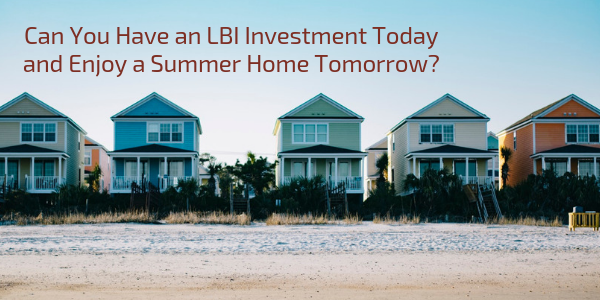 One of the key reasons to buy a Long Beach Island property is the consistently stable market for summer home rentals. LBI is one of the few areas in the world that allows you to purchase a property and immediately generate cash flow. The rental market on LBI is strong enough that you can live in the property from the fall to spring and have your mortgage covered year-round by summer renters.
Types of LBI Rental Properties
As you research LBI investment opportunities, you'll see three main types of available homes:
condominiums,
single family homes,
and multi-family homes.
Although condominiums may cost less upfront, high-cost HOA fees required may not promise a good value. Single-family homes and multi-family homes offer the highest return on investment. Rental income is automatically higher for multi-family properties because more tenants are paying rent. Additionally, if a single unit is vacant within the multi-family home, the owner still collects rent from the other occupants. When a single-family home is not rented out, your income is $0.
Keep in mind financing options differ depending on the number of units within the property. As long as the home has fewer than four units, you can take out a traditional mortgage on the property. For more than five units, a commercial real estate loan is required which typically carries more restrictive underwriting rules and increased down payments and interest rates.
Preferred Locations on Long Beach Island
As far as location, oceanfront, ocean block, and oceanside properties on LBI tend to do best in the rental market. Homes within these locations are rented out at a higher base rate per night than homes located farther away from the beach. Any location near the beach will always provide higher returns in the long-term. However, bayside properties are still a worthwhile investment and may turn a profit much sooner than oceanfront homes.
Area attractions also dictate the desirability of an LBI rental home. Beach Haven is a very popular resort destination during the summer months with LBI's top attractions located in the small town. Homes located near Fantasy Island Amusement Park and Thundering Surf Waterpark has some of the most expensive per night rental costs in the area.
Building a New House as

an

LBI Rental Investment
One of the savviest ways to invest in the LBI real estate market is to build a new home. Rental rates are always higher for new construction than older homes. New homes on LBI typically will always satisfy what real estate investors know as the 1 percent rule. Essentially the monthly gross rent should equal out to at least 1 percent of the home's cost.
The cost of a new home construction project on Long Beach Island varies drastically based on lot size and location. Certain areas will also have different requirements for setbacks. For instance, oceanfront areas on LBI usually have setbacks of 10 feet or more on each side. Easements also factor into the lot sizes available on LBI. As an example, a majority of Loveladies and North Beach lots are 100 x 100, but anywhere from 15 to 20 feet are reserved for easements.
Buying an investment property on Long Beach Island can help you reach your financial goals of paying for your new home with rental income. By choosing a desirable location and a modern well-appointed home, long-term appreciation is a given.