3 Min Read
Mistakes to Avoid When Cleaning Your New Custom Home Hardwood Floors
Spring is right around the corner and we all get the itch to do a deep Spring clean across our entire homes, including our floors. If you have hardwood floors, however, regular gentle cleaning is all you'll need. Need more convincing that a deep clean can actually harm your wood floors rather than help? Take note of our list of these cleaning methods to avoid when it comes to cleaning your hardwood floors to keep them in the best condition possible and avoid refinishing them sooner than you'd like.
How Should You Not

Clean Hardwood Floors?
Hardwood floors are incredibly durable, as long as you practice the right maintenance and cleaning routine. They can even last 100 years or more with the proper maintenance. Here are the biggest mistakes homeowners make when trying to keep their hardwood floors clean and why you should avoid them.
Steam Cleaning
Many homeowners believe that steam cleaning is a harmless method for cleaning floors because it's just water. However, steam will damage your hardwood floors. The sudden and drastic temperature changes, along with water, can ward your wood floors. Even when steam mop manufacturers claim that it's safe to use on wood floors, this is actually bad for them. The force of the steam leaving the mop can penetrate between the boards, forcing moisture into these crevices and into the wood, leading to warping with regular use.
Vinegar
Vinegar is thought of as the every-cleaner by many homeowners. From sinks to the laundry, vinegar is used all over the home. But don't use vinegar on your hardwood floors! Wood floors require a neutral solution with a pH level of 7. Vinegar is acidic, with a pH level of 2 or 3, which will erode your natural wood floor's finish and shine. You will end up having to refinish your floors much sooner than you'd like.
Polish
Applying polish to wood seems like a great idea to get that new-floor shine. The suggested use of these chemicals is to reapply them frequently–as much as once per month. The reason for this is that the polish sits on top of the wood floor's finish and will get worn off, especially in high traffic areas. The problem? Reapplying polish will eventually make your hardwood floors appear hazy and the only solution to fixing the problem will be to strip the polish, which will damage the original finish.
Wet Mopping
Skip the Pine Sol or other solvents that need to be heavily diluted with water. Using a wet mop on your hardwood floors will degrade the finish and could even leave behind water in between the boards, which can get into the hardwood planks. The water can also damage your subflooring over time. Instead, use a product like Bona, which is a hardwood floor cleaner that won't wear out your finish or permeate the surface. You'll spray it lightly onto your floors, using a microfiber dry mop to clean your floor as you go.
A Hard-Bristle Broom
Sweeping up dust, dirt, and fur from your wood floors doesn't require the same type of brush as concrete or getting into grout lines of tile. Even worse, stiff bristles will scratch the surface, making your floors look worn faster. Instead, use a soft-bristled broom. Even better, use a dry mop to gather dust and dirt more effectively.
Using the Brush Roll on Your Vacuum
The brush roll on your vacuum is the rotating bar of bristles on the underside of your vacuum. Like with a hard-bristle broom, your floors will get scratched, but at an even faster rate. This will wear down the finish and make your floors look dull over time. Most vacuums come with a "hard floor" option that stops and lifts the brush roll. If your vacuum doesn't have the option of stopping the brush roll, forgo vacuuming altogether. Or, invest in a robot vacuum that can take care of picking up dust and dirt between deeper cleanings.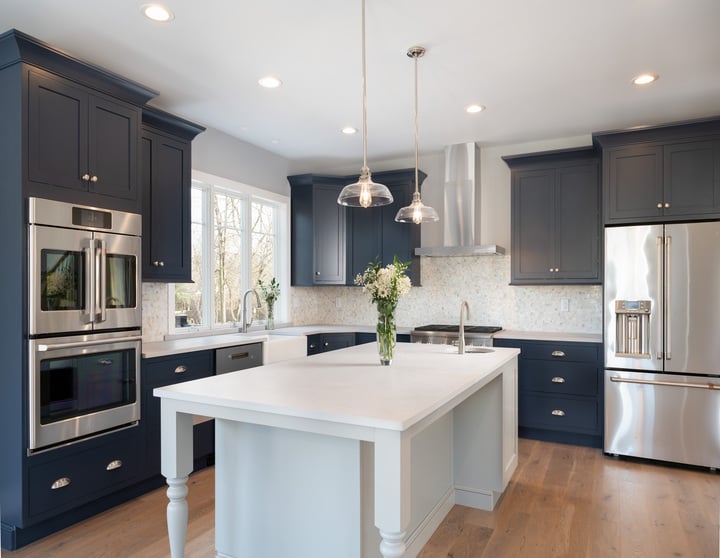 What Is the Best Thing to Use to Clean Hardwood Floors?
Keeping your hardwood floors clean is easier than you might think. Use a soft-bristle broom or a microfiber pad on your floors daily to pick up dust and dirt. On a weekly basis, use the "hard floor" setting on your vacuum, or your robot vacuum. Twice a month, use a dry mop with Bona wood floor cleaner.
How Often Should You Refinish Your Hardwood Floors?
You'll notice quicker wear in the more heavily trafficked areas of your home, like entryways. To avoid quick wear, use rugs and doormats in major entryways. Otherwise, expect to apply a new coat of finish every three to five years. As for completely sanding and refinishing your hardwood floors, this should be done every ten years.
It's All in the Details
Details like knowing exactly how to care for hardwood floors and caring about the condition of your home long after we've completed a project is what makes GTG Builders unlike most builders. Giving attention to every detail, and not simply moving on as soon as a project is complete, is how we've operated for all of the decades we've dedicated to designing and building stunning, well-crafted homes in New Jersey. To learn more tips like these and about building or remodeling your home, scroll through our educational blogs. Ready to learn more about our process and the design-build experience? Contact us to schedule a consultation.