For a wine aficionado, a home wine cellar is a wonderful investment. A well-built wine cellar will help you create the right environment for storing your many bottles of favorite vintages. Some wine storage rooms can be installed for just a few thousand dollars, others require an investment of tens of thousands, or even hundreds of thousands.
Before you can get started with a wine cellar remodel, know how much you can expect to spend, and become familiar with factors that influence price. Doing this can help you decide whether a wine cellar or storage area is the right investment for you.
Cost of Wine Cellar
Although the cheapest wine storage areas (like those found in closets or nooks under the stairs) might cost as little as a few hundred or few thousand, a typical small wine cellar remodel costs around $40,000. For a very large, whole-basement wine cellar or Italian style wine cellar, the cost may be as much as $100,000 or $200,000. A wine cellar installation typically costs between $300 and $600 per square foot.
Factors that Influence
Wine Cellar Cost
There are many factors that influence the cost of wine cellar installation. Knowing how to control costs can help you make a wine cellar installation a reality.
#1 Storage Capacity
A custom wine cabinet is a costly feature, but if you're worried about costs, you can purchase affordable, pre-made wine racks for your wine cellar. Even under stair wine racks are available for sale in furniture stores and online stores.
Work with your contractor to decide whether a custom wine rack fits in your budget, or if a pre-made wine rack is more appropriate.
#2 Location
Cellars are generally thought to be a good environment for storing wine because they're cool, dark and sheltered from vibration. However, not all wine storage areas are found in the cellar. Below are some common parts of the house where wine may be installed.
Closets
Closets can easily be kept at a constant temperature, so they're great for wine storage. Wine storage closets are also relatively inexpensive to install, without taking up a lot of space in your house. This is an excellent option if your wine collection is relatively small and will fit into a closet-sized space.
To complete this home remodel, you can either convert an existing closet into a wine storage closet, or talk to your contractor about building a closet into your home's existing footprint. Your contractor can also help you choose an area that would be convenient and easy to convert into a closet, if an existing closet isn't available.
Under-Floor Pull Up Storage
If your home has a crawl space, under-floor pull up storage is another way to store wine without taking up valuable square footage in your home. Crawl space storage needs to be sealed properly or the humidity under the house can become a problem.
For this kind of project, it's important to work with a contractor that has experience, as they'll be cutting a hole in your floor. A simple pull up storage unit costs about $10,000 to install.
Under Stair Wine Cellar
Another popular location to install a wine cellar is under the stairs. Under stairs storage is inexpensive to install and takes up no additional storage space in the home.
However, installing adequate climate control under your stairs can be a challenge. Installing a wine cellar in this location costs between $500 and $2,500. To get the most value for your investment, hire your contractor to install custom shelving in different sizes. While prefabricated stair shelving may fit, custom shelving makes the best use of your particular space.
Walk In Wine Cellar Underground
Walk-in underground wine cellars can feature a spiral staircase leading down into the "room". These spiral rooms offer no tasting area, but can be used to house thousands of bottles of wine at a single time. A walk-in underground wine cellar can cost up to $50,000.
Walk in underground wine cellars can be a costly option, but they offer a lot of storage space and also have a "wow" factor that can be very rewarding for a wine aficionado. Your guests, friends and relatives will no doubt be impressed with your wine storage options, and will be further impressed to see you disappear into your floor down a spiral staircase lined with wine bottles.
Basement Conversion
Wine cellars are traditionally installed in converted basements. Before your basement can be made into a proper wine storage area, it must be finished to make humidity control simpler. Finishing your house cellar alone can cost between $10,000 and $30,000, and then installation of the rack and other features increases the cost.
#3 Tasting Room
Will your wine cellar include a tasting area? If so, additional costs will be incurred. Your wine storage area and your wine tasting area will likely be separate from one another, as the ideal temperature for wine storage is in the mid- to upper-fifties.
Be prepared to pay thousands of dollars in addition to your wine storage area, to build a custom wine tasting room. Work with your contractor to make the space comfortable and relaxing for enjoying wine. Features that can help make your wine storage area an enjoyable place to spend time:
Attractive lighting.
Beautiful stone walls and floors.
Attractive features like mosaic tiles, a fountain or art for the walls.
If you've got room in your budget, your contractor can create an Italian wine cellar environment and tasting area where you can entertain guests and enjoy your favorite wines. With the right contractor and design, you can make your home look like an Italian restaurant.
#4 Wine Itself
One of the most expensive features of a wine cellar is the wine itself. Once you've got a custom wine rack in your home, complete with a tasting room or a booth for drinking, you'll want to buy every bottle of wine you see. Though you'll have years to build up your collection, you'll naturally be excited to fill your rack. Budget some money for the purchase of several bottles just to get your collection started.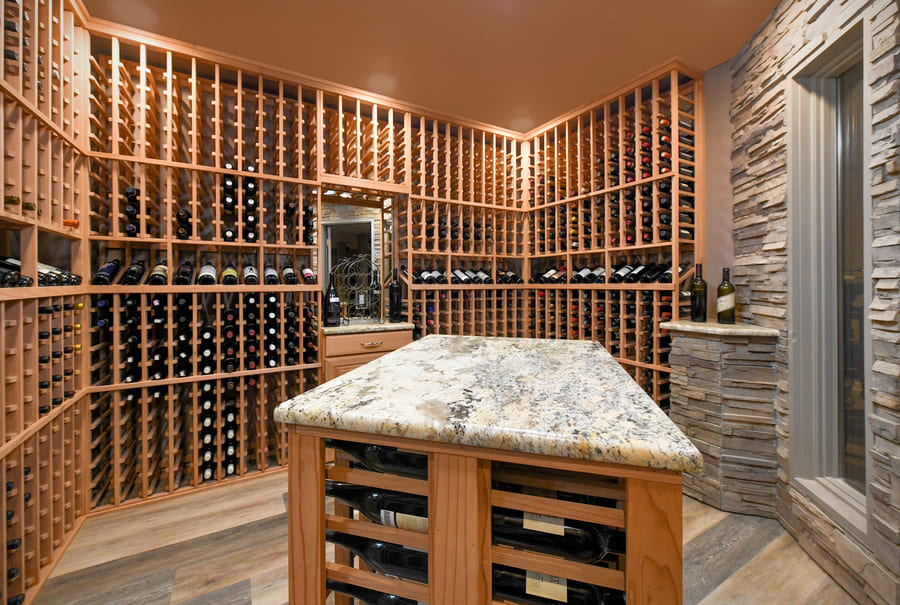 Does a Wine Cellar Add Value To Your Home?
One of the questions that people ask is whether a wine cellar is a good investment. The answer is yes, if it's well-constructed. Working with a quality contractor can help ensure that the work performed will be attractive to buyers.
Poor quality work may need repair soon, which can detract from your return on investment. Another way to maximize return on investment is to control costs by keeping the size of the wine cellar small and by investing in pre-fabricated shelving or racks.
Budgeting for Your
Wine Cellar NJ
Before deciding what kind of wine cellar to install, know your budget. Once you've decided on a budget for the cellar you want, start contacting contractors to find out wine cellar price. Get quotes from at least three contractors before hiring a professional. Talking with multiple contractors about your project serves the following purposes:
You'll get a sense of what's a fair price.
Each contractor will have different ideas for your wine cellar or storage area.
Knowing your options will help you choose the best contractor for your project.
It helps to have pictures of your ideas for your in-house wine storage. Save images from your favorite websites, and take notes on your favorite materials for your wine storage area. This will make it easier to have a conversation with your contractor about your wine cellar.
Find the Right Contractor
When you're looking for a contractor to install your wine cellar, it's important to find a professional that knows how to install the proper climate controls and has experience creating beautiful wine storage and wine tasting areas.
Ask to see their portfolio, with specific examples of wine tasting and wine storage areas.
Meet with the contractor in person to find out what kind of wine storage they'd recommend for your house. Discuss your ideas and get feedback from the contractor.
Get an itemized quote from the contractor to ensure that the contractor's proposal is comprehensive and includes what you're looking for in a home remodel.
Contact references who have worked with that contractor to have a wine cellar installed in their home.
While it's important to find a contractor you can afford, the lowest cost contractor may not be the best contractor for your job. Hire a professional who will perform quality work that will last a long time. Contractors that undercut the competition may be cutting corners in a way that could lead to low quality work.
Work With a Licensed Professional
Are you installing a wine cellar? Work with the professionals. GTG Builders remodels homes and installs wine cellars for homeowners. We also build custom homes with wine cellars included. Call today to make an appointment for your upcoming home remodel. Find out more about how much it will cost when you're building a wine cellar.