With the ocean breezes and views of the Atlantic to enjoy, summer doesn't get much better than it does in New Jersey. Still, summer has its drawbacks, chief among them, scorching heat. High temperatures can detract from your summer, leaving you sunburned and overheated. However, there are some adjustments you can make to your custom-built home to keep cool and enjoy the summer in any weather.
1. A Pool
You could spend your summer driving down to the public pool or beach whenever you want to cool off with a dip. Or, with a pool addition, you could simply put on your swimsuit, grab a towel, and take a swim in your own backyard.
Installing a private pool adds a ton to your home. It increases your home value, creates a zone dedicated to relaxation and fun, and invites new exercise, family bonding, and hosting opportunities. Having a pool encourages you to spend more time outside, which is especially fitting for the summer. You can further your swim experience by adding a pool house with a changing room, shower and bathroom, relaxation area, and kitchenette.
2. Outdoor Kitchen or Grill Station
Cooking inside, whether you've got something baking in the oven or simmering on the stove, releases a huge amount of heat inside your home. Without anywhere to go, the heat raises the temperature inside (particularly on the upper levels), making your air conditioner work harder. The extra heat can make your home unbearable, especially during the dog days of summer.
An outdoor kitchen or grill is the solution. Since these cooking elements are outside, you don't have to worry about trapping extra heat — plus, you can enjoy a cool breeze and some sunshine while you're making food. Beyond keeping your home cool, an outdoor kitchen provides extra storage and entertainment space, adding an extra dimension to cookouts or other gatherings.
3. Outdoor Living Area
If you want to enjoy both your home and the outdoors, consider an outdoor living area. These additions expand the footprint of your home, increase home value, and encourage an indoor-outdoor lifestyle.
Outdoor living areas come in all shapes and sizes: decks, patios, gazebos, pavilions, porches, etc.
We recommend adding a roof, comfortable seating, a mini-fridge or bar, and a built-in fireplace for the ultimate experience. You can also leave room for storing outdoor necessities like towels, bug spray, sunscreen, grames, snacks, and entertainment. Use decorative ceiling fans to keep outdoor spaces cool and consider adding screens if you particularly dislike insects.
4. Landscaping
Ever step beneath the shade on a blazing summer day and feel amazed at how much cooler it is without the sun beating down on you? Don't underestimate the power of shade to keep your yard and home cool during the summer months. Of course, new landscaping might not have the intended effect at first; this is an investment you'll see a larger return on in a year or two, once your shrubbery has taken root.
Plant large, dense trees and bushes around windows and areas of your home that get lots of sunlight. You can use the same principle to cool your outdoor living area or other outdoor features.
5. A Powerful HVAC System
Depending on how old your home is, upgrading your heating, ventilation, and air conditioning system can make a massive difference in helping you stay cool this summer. A newer HVAC system cools and heats your home more effectively and affordably.
6. New Shades, Windows, & Doors
Cooling your home only to have your air conditioning escape through poorly insulated doors and windows is self-defeating. Do yourself and your HVAC system a favor by upgrading to newly insulated windows and doors. In doing so, you can simultaneously lower the temperature of your home and the cost of your energy bills. You'll also make your home more energy-efficient.
While you're looking at your windows, consider installing automatic window shades. Remember the principle of shade we talked about earlier with landscaping? The same thing applies inside your home too. If you have tall windows in a living room, for example, the room might heat up significantly during the summer months. Automatic shades allow you to block out the sun and keep your living space cool with ease.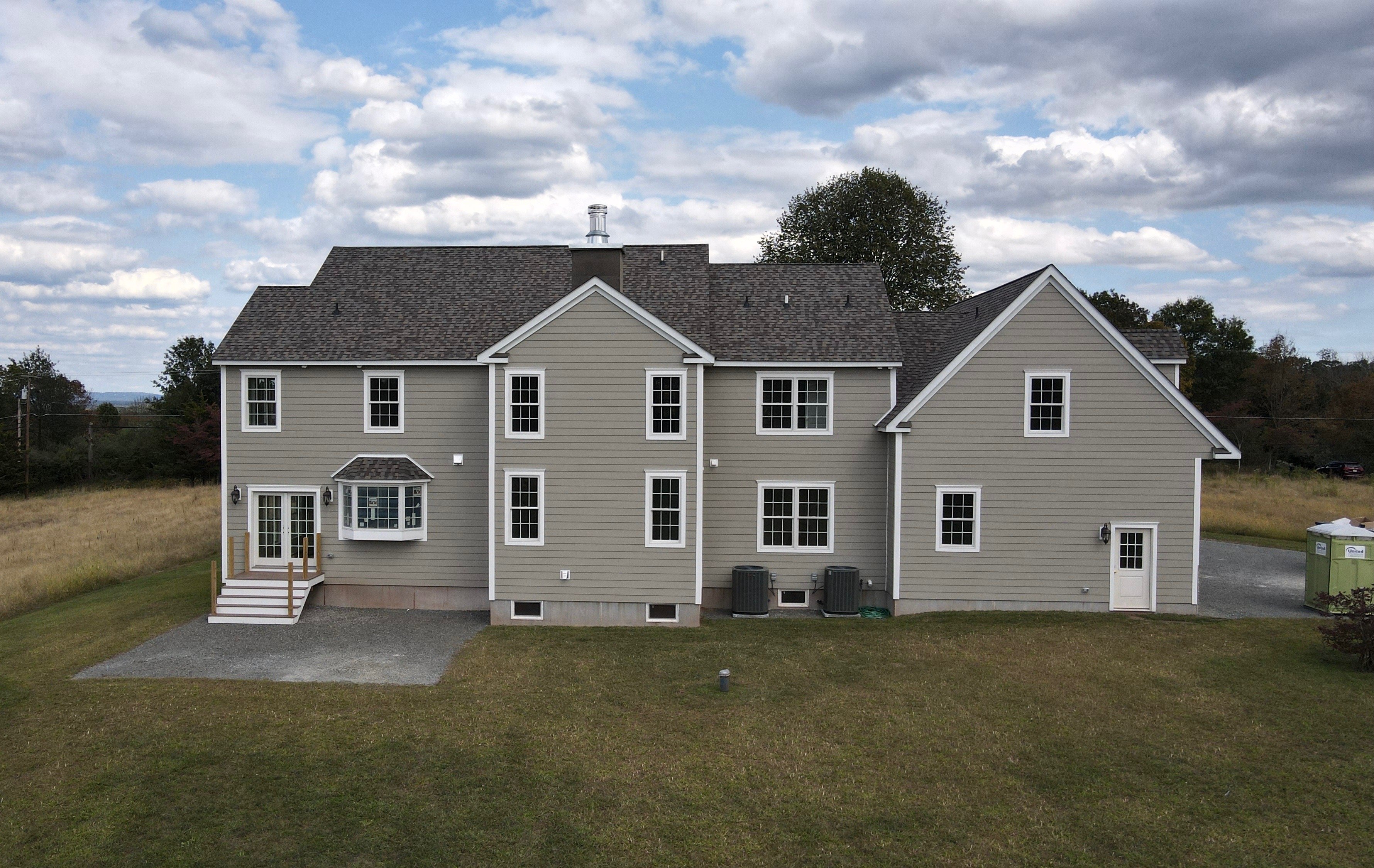 A Place to Wash the Sweat Away
After a day outside under the sun or in the pool, your skin is covered in chlorine, sweat, and dirt. You need a place to wash up — why not make it a nice one? Help yourself stay cool this summer in more ways than one with a luxury custom bathroom where you can unwind and let go of stress. With custom bathrooms, you can personalize your layout, materials, and fixtures. You can also add special features like heated flooring, touchless faucets, a wet room, or a freestanding tub. Consider what features you want to include, then partner with an architect or designer and builder team. They'll listen to your ideas, give you advice on trends, and help bring your vision to life.
Your New Jersey Custom Home

Building the customized house you've always wanted requires the right builder. That looks different for every homeowner. But at GTG Builders we believe the right builder guides you through the custom home building process from land acquisition to zoning and more. And as a second-generation family business, you can trust GTG Builders to have the experience and expertise to center the design of your custom home around your input, needs, and desires. Find out if GTG Builders is right for you.