3 Min Read
What Type of Floor Do I Need for a Shore House?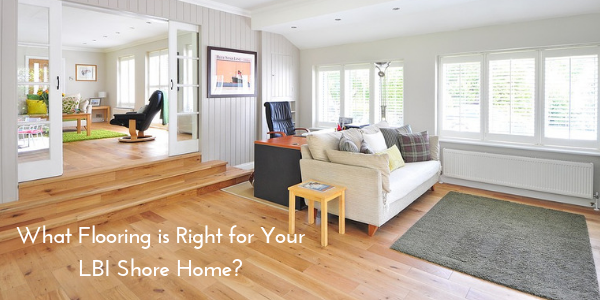 Selecting flooring for your Long Beach Island home is a completely different process than choosing flooring for a non-coastal residence. Flooring in a shore house is expected to be more than simply attractive. The flooring must also offer high water resistance and have a protective layer to prevent wear and tear. Although there's no perfect "right" choice for beach house flooring, there are certain options that make the most sense for your LBI home.
We've gotten additional insights from Robin Mainardi, Realtor Associate, The Adams Group LBI at RE/MAX of Barnegat Bay. You'll find her answers under each flooring option.
Ceramic and Porcelain Floor Tiles
Floor tile is always a solid choice for decorating shore houses. Tile is extremely durable and very easy to clean—which are attractive qualities if you are considering renting out your LBI property. Tiles are constructed from porcelain or ceramic. Porcelain tiles are less porous and denser than their ceramic counterparts. This means porcelain has higher stain and water resistance. However, porcelain tiles are typically more expensive. Tile flooring is most often placed in foyers, kitchens, rec rooms, bathrooms, utility rooms, and laundry rooms.


Robin's Answer: "Yes, tile is definitely a great option for a place like the beach where you have a lot of wear and tear on your floors. Between dropping beach chairs and other items, sand and water, you'll want to have something durable. Tile may be more expensive but will hold up well in the long term and prevents you from having to replace something like carpet and laminate more frequently."


Hardwood Floors
Hardwood flooring is a highly requested pick for family rooms and hallways in beach houses due to its classic and distinguished look. Prefinished hardwood offers a safe and durable option when choosing solid wood flooring for your LBI house. Prefinished hardwood goes through chemical processing to apply multiple layers of finish to prevent water damage and discoloration. However, moisture can still permeate the hardwood and it may not be the best selection when installed near entryways.
Style wise, the weathered wood look is particularly popular right now. LBI homeowners are choosing distressed hardwood flooring finishes inspired by the appearance of driftwood. Best yet, lighter finishes offer the benefit of concealing any scratches caused by wet, sandy feet.


Robin's Answer: "People love hardwood floors. They're classic, clean, and they can flow seamlessly from a kitchen to a dining room to a living room while looking uniform and high end. However, they aren't a big fan of moisture, and that is something we have a lot of here. Because of this, in certain areas of the house that are more for lounging, hardwood floors are still a favorite. But I wouldn't recommend putting them in hallways, staircases, or anywhere someone may be wandering around after swimming or showering."
Linoleum Flooring
Although linoleum flooring is associated with interior design of decades long past, the material is experiencing an unexpected comeback. The popularity is attributed to homeowners looking for durable, environmentally friendly flooring made from renewable resources. With a protective coating applied to the top layer, linoleum flooring is scratch resistant and water resistant. Linoleum is typically seen in high traffic areas of a shore house including kitchens, bathrooms, and laundry rooms. The major downside of choosing linoleum flooring is the association that linoleum is cheap and not a desirable material when it comes time for resale.
Robin's Answer: "Our clients tend to gravitate away from linoleum flooring, regardless of quality, as they have the old reputation for being cheap. But this flooring option is starting to become more popular as it is highly durable and stands up against a lot of the issues we face down here at the shore. They have come leaps and bounds the past few years with the look and quality of the material that it should become even more popular with builders and remodels on the island. It is also a great consideration for people renting their shore house where there's a lot of wear and tear."
Wall-to-Wall Carpet
Carpet is typically considered a poor choice for shore house flooring. For one, carpets can become stained very easily when compared to all other flooring options. Additionally, carpets become dirty quickly when placed in high-traffic areas. This is especially problematic when you drag in sand from the beach. Carpet may be an appropriate choice in select areas of the home like bedrooms with carpets constructed from natural woven fibers such as sisal, seagrass, and jute being in trend right now.


Robin's Answer: "As a cost saving measure along with the added comfort, you can find carpet in a lot of bedrooms here on LBI. Carpets don't hang up very long here with all the barefoot walking in and out of the house to and from the beach. It is especially problematic when you are renting your house out for the summer. Renters are not as delicate around a white carpet as a homeowner may be. So, if you're renting your house out for the summer, you would have to consider the added expense of getting it deep cleaned every week between tenants, or splurging on something more durable such as tile or hardwood.
Any of the above flooring options will look stunning in your LBI home. Just keep in mind that protective features are a must to prevent you from seeing just how much havoc water and sand can cause to your home.