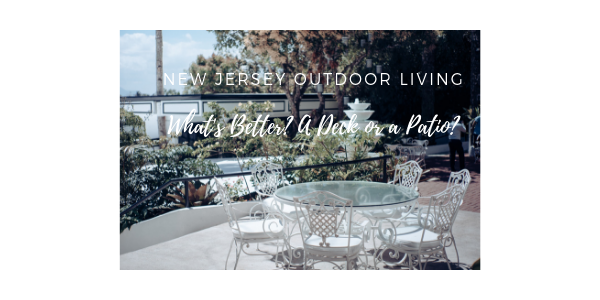 As part of investing in your New Jersey outdoor living space, you will likely choose between building a deck or a patio in your backyard. Although people use the words patio and deck interchangeably, the structures are very different. Both are intended to last for years, so it's important to carefully consider your options and what appeals best to you and your lifestyle.
Outdoor Living trends change from year-to-year. What doesn't change is that we want to create beautiful outdoor spaces to entertain or simply a calming atmosphere to unwind or simply enjoy the backyard.
Comparing Patios and Decks
In the simplest of terms, decks are floating platforms extended off the rear of the house. Although decks can be built close to the ground, they are not set directly on top of it. Since decks are elevated, they typically include railings to act as a boundary. Decks usually extend off a lower-level room like the kitchen or family room. Most decks are constructed from wood, vinyl, and composite materials.
Patios refer to an outdoor area set directly against the ground. In the past, patios required a flat surface for installation, but more options are now possible through retaining walls and multi-level systems. Patios can be put down directly against a home or can be installed in a separate area of the backyard. In most cases, patios have a concrete base, but different types of pavers, tile, and stone can be used to design a patio.
Considerations for Decks
For the majority of new construction projects, homeowners request a deck to be built over a patio. Decks have been a mainstay in backyards for years and many envision entertaining on a traditional wooden deck. However, decks can be very costly to build, especially when you decide building a large deck using the newer composite materials that require hardly any maintenance. Wooden decks require a lot of maintenance to extend their lifespan. Every few years, decks must be stained or sealed. Seasonally, you may need to power wash your deck too. Wooden decks not properly maintained will only last for a maximum of seven years. Needless to say, you'll want to do your homework to ensure building a deck will offer a good return on your investment.
Advantages of a Patio
Compared to decks, most patios cost less to build. One of the reasons cited by homeowners for preferring patios is they don't want to navigate steps into their backyards. A patio can be designed needing just a few short steps down and offer the opportunity to enjoy your entire backyard. They are said to have a longer lifespan than decks with little to no annual maintenance required. Decks are fairly limited with style choices, but patios offer a much higher degree of customization. You can include pavers, bluestone, granite, travertine, or stamped concrete and more. Patios are also a safer choice if you'd like to include structures such as firepits, an outdoor kitchen with built-in grills, or a hot tub as it can accommodate more weight.
Although a patio may be your preferred choice, your contractor will need to review the terrain to determine what type of structure is possible for your specific home site. For instance, sloping or rough terrain may work better for a deck. The good news is retaining walls could make a patio possible. Once your patio is in place, you'll get the chance to start enjoying your beautiful new backyard.
Source
https://www.angieslist.com/articles/deck-vs-patio-which-works-better.htm
https://www.hgtv.com/remodel/outdoors/putting-in-a-deck-or-patio