3 Min Read
5 Reasons to Enclose Your Deck or Patio
There are so many reasons homeowners love having a patio or deck. It's a great way to enjoy the outdoor space of your property. Of course, there are times when you might wish you could get away from some of the elements. That's where enclosing a deck or patio comes in handy. Keep these five benefits in mind, especially if you're thinking about building a home in New Jersey.
1. Adding Living Space
These days, outdoor living space is an important part of your home. Outdoor living is quite a bit different from your house. You can dramatically expand the space for leisure, entertaining, dining, and more. Even better, you can make the perfect area for these activities without having to add a huge amount of square footage to your house. With an enclosed back patio, you can have a seamless transition between indoor and outdoor in almost any weather. That's why it is one of our 10 things to consider for your custom home.
2. Decrease In Bugs
Sitting on your porch, deck or patio is a delight when the weather is beautiful outside. Of course, as soon as the sun goes down or you bring out a meal, the insects start to drift in. No one enjoys dealing with flies or spiders, much less mosquitoes, while they are trying to relax. Enclosing a patio or deck solves these problems effortlessly. You can choose a combination of screens and windows to help protect yourself and your family.
3. Enjoy Fresh Air While in the Shade
A meal outside with family and friends is so pleasant with the sun shining. If the weather chooses not to cooperate, with blazing heat or an occasional rainstorm, you may want to have a greater degree of protection. Adding an enclosed patio is a perfect way to keep your plans on schedule. A covered deck protects you from the worst of the sun, and the enclosure helps to break the wind and rain.
4. Pets Have More Freedom
Allowing your pets time to enjoy the sun and fresh air requires your constant attention unless you have a protected area where they can relax. An enclosed porch is perfect for people-watching and taking a break with a cold drink. You don't have to fence in the yard, and you don't have to worry about what they are getting into. It's also an easy way to keep your indoor cats safe while creating more space for them to play.
5. Storage in the Winter
Although you may not be lounging on a covered deck in the middle of winter, there are plenty of advantages of having one all year-round. Enclosing a patio for winter provides you with extra storage space. If you have a large deck or patio, you probably keep several pieces of outdoor furniture. Instead of having to move them, they can stay in place. You can also keep firewood there, protected from the snow and ice but within easy access to your fireplace.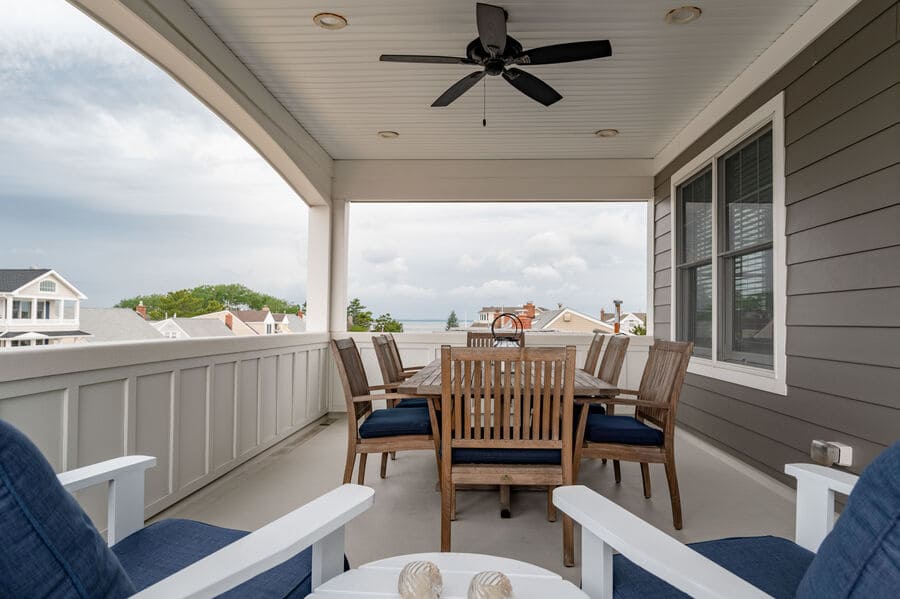 Can a Deck Be Enclosed?
Almost any outdoor living space can be enclosed, especially a deck or patio. Each one has a roof to provide extra protection, and it's up to you whether to use screens or windows. Screens are easier to remove, but windows offer better protection from rain and winter weather. In some cases, it might make more sense to put windows at the floor level and add screens at the halfway point. If you have small children or pets who might run into the screens or scratch them, windows will make it easier to keep them safe. Not sure which one to choose? When you hire an expert team like GTG Builders, you get the benefit of our decades of experience.
Does an
Enclosed Patio

Add Value to Home?

When you're making choices about adding an enclosed patio or deck, resale value is an important part of the discussion. Adding a deck usually increases your home's value by about 60% to 65% of what you paid, which is a great return. You'll get a lot of extra living space without having to deal with the elements, as you would without the protection of the enclosure. Trying to decide between a deck or patio? We can help you compare your options.
Is a Covered Deck Worth It?
Most homeowners are delighted with a covered deck. If you like to entertain outside or just relax with a good book on a cool night, a deck might be the perfect option for your home. It's also an excellent project to add to a custom home because it can increase your living space without forcing you to increase your home's square footage up or out. Wondering what to expect from custom home projects in New Jersey? Check out our gallery.
Imagine sitting outside with friends or family on your enclosed deck, enjoying the summer sun or a late evening snack as the stars come out. It's a fantastic idea that can easily become a reality. At GTG Builders, we can build your custom home to fit all the activities you want to do and more. Contact us when you're ready to learn more about building a custom home.