3 Min Read
Getting Your Hunterdon County Custom Home Holiday-Ready
The holidays are practically at your doorstep. Are you ready to open the door? If not, you're not alone. Many homeowners get to the holidays just in time, without a moment to spare. Of course, you still want your home to be a warm, inviting space for your family and everyone who stops by. If you want to know how to make your home in Hunterdon County NJ ready for the holidays, we've got some tips to help you out.
How Do You Get Ready for Holidays?
Preparing for the holidays might seem like a lot of work, but it is also a worthwhile process. If you start as early as possible, you'll have plenty of time to get everything done and finish with a cozy indoor space that is perfect for entertaining.
Cycle Out Summer Gear and Décor
To start, you should invest a few hours to pack up all the gear you use in the summer and fall, including decorations. It's one of the best ways to ensure that all your décor stays in ideal condition from year to year. Take a moment to look at each item for damage or dirt, and give everything a good cleaning before you put it away in your home in Somerset Square.
Clean and Decorate
Now that you have a relatively blank slate, you can start to think about how to decorate for the holidays. Consider the best way to decorate safely, especially for rooms with pets or small children. Moving from room to room, give each space a thorough cleaning from top to bottom. You might be surprised how much dust your ceilings and walls can accumulate. A clean surface makes your decorations sparkle that much more and keeps them cleaner for the season.
Want to know how you can make the perfect custom home in New Jersey? Take a look at these projects.
How Do You Get Ready for Christmas Guests?
Preparing for the holidays in Mercer isn't quite the same as getting ready for holiday guests, which takes a little more time. With these tips, you'll be able to welcome friends and family with plenty of style and a lot less stress.
Get Bedrooms
Guest-Ready
When you have family coming to stay, you become their home for the holidays. It's a wise idea to go all out. At least a few weeks before your visitors arrive, go through the guest rooms to declutter, clean, and restock. Add extra towels for the bathroom, shampoos, and soaps, and don't forget an extra blanket or two. For longer visits, consider installing a nook with games galore. Worried that you don't have enough space? Room for guests is one of the 7 most important things to have in a custom home.
Prepare for
Dinner Guests
If you have guests coming over for a holiday meal in your Somerset home, you'll want to make sure they have everything they need. Make your shopping list in advance and be sure to shop early, before the stores run out of the basics. If you have room in your kitchen, dining room, or breakfast nook, create a station where people can serve their own appetizers and warm drinks. Consider adding a small fridge so that you can keep drinks from taking up valuable space in your kitchen refrigerator.
Looking for winter activities for families in central New Jersey? Check out this list.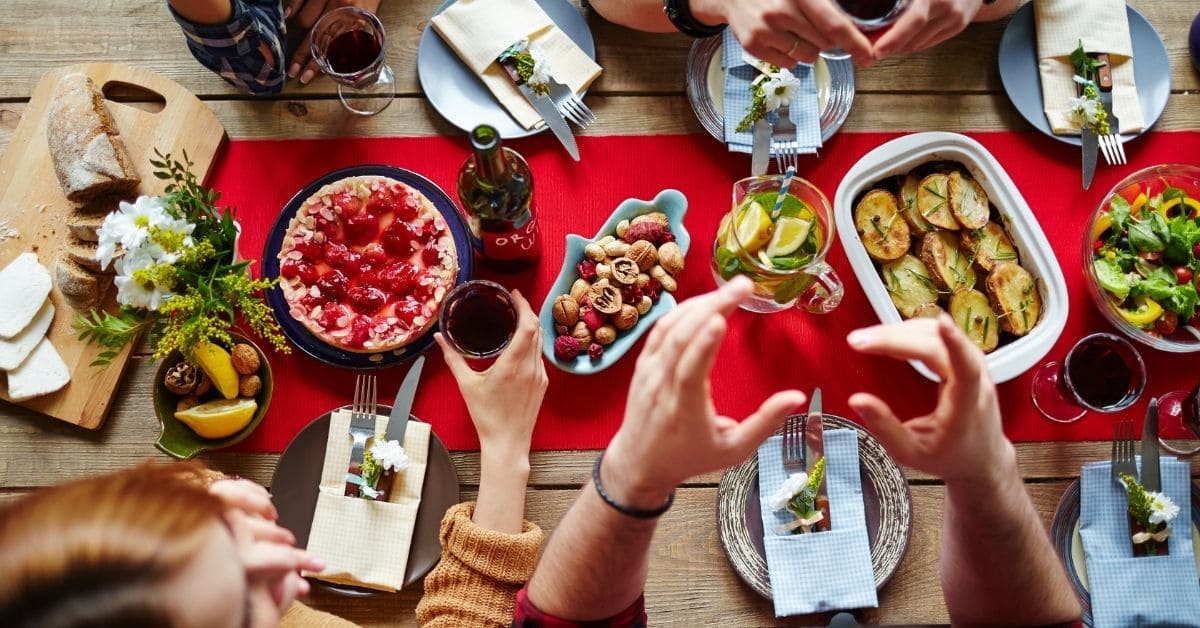 How Can I Clean My House for the Holidays?
As you start to head into the holidays, your Hunterdon County home might be in need of seasonal scrubbing. Everyone cleans on a regular basis, but sometimes it's hard to find the time for deep cleaning. It's a great idea before your guests arrive because you have all the motivation to make it great.
Declutter Each Room
Even if you're committed to keeping clutter out of your home, it can be surprising how quickly it adds up. A few new purchases for summer fun or fall décor and suddenly, you have more stuff than you have space to keep it. Use this opportunity to declutter each room, making piles to donate, sell, or toss. It's the best way to make each room easier to maintain for your guests.
Schedule a Professional Cleaning
The secret about cleaning is that there's no reason you have to do all of it yourself. Even if you have lots of time, there are plenty of good reasons to consider hiring professional cleaners to get your home to an ideal level of cleanliness that you can maintain. You can hire people to clean as many rooms as you like, so you can focus on the guest and entertaining rooms if you want. All the dirty work, like scrubbing the baseboards, the windowsills, or behind the toilets, can save your aching back and your busy schedule.
Make the Kitchen
Sparkle and Shine
Once you get your home as clean as you want it for guests, you'll want to do your best to keep it that way. The kitchen and dining areas are particularly important, for sanitation as well as comfort. Make a cleaning station with all the tools and cleaning solutions you need, especially special products for natural stone or wood. Each night, before you go to bed, give everything a good wiping down. That way, you can wake up in the morning ready to entertain guests or prepare a nutritious meal.
At GTG Builders, we have decades' worth of experience building custom homes for clients in several New Jersey counties. Contact us to get a home you will love to have for celebrations with guests.