4 Min Read
Top 9 Luxury Custom Home Design Trends in 2023
While you're planning your custom home, it's important to consider both timeless and trending design ideas. In 2023, designers and builders are taking note of many trends that have continued from previous years and new trends on the horizon. When you're ready to begin designing your custom New Jersey home, consider these new and evolving custom home design trends.

#1 Biophilic Design
Bringing the outdoors in has been trending for years and there's no sign of stopping since homeowners have realized the benefits. This can come by way of a retractable glass wall, incorporating nature-inspired color palettes, or even using more natural wood tones throughout your home.
Including an outdoor living area in your custom home design is another way to introduce biophilic design. By creating a space outdoors where you can cook, dine, lounge, and entertain, you're creating a space where you and your family will spend more time in nature, which results in more overall well-being.
#2 Natural Light
Much like with biophilic design, homeowners are looking to increase their connection to the outdoors with more natural light and unobstructed views. Work with your designer to maximize natural light in your custom home by increasing the number of windows, using large casement windows where possible, skylights in rooms that don't have much wall space, and moving glass walls that open up the living room or kitchen to an outdoor sitting area or outdoor kitchen.
#3 Open Concept Floor Plans
Getting the most out of your custom home's square footage will continue to remain trendy in 2023. Most open-concept floor plans create a single great room that combines the kitchen, dining room, and living room. Sometimes, an open floor plan will combine two of these three. Open floor plans are intended to make a home's interior feel larger and airier while also promoting connection between family members. While entertaining, you can socialize with guests that are in the living room as you plate the appetizers.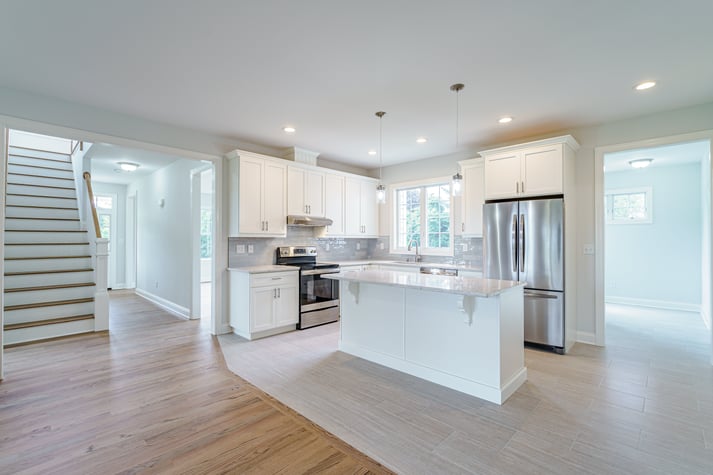 #4 Spa-Worthy Bathrooms
In 2023, spa-worthy bathrooms continue to reign supreme, with fixtures, features, and finishes that take you out of your everyday routine and into a relaxing and rejuvenating experience. Freestanding tubs with jets and heated sides, steam showers, in-floor radiant heating, smart lighting to fit your mood, and all custom storage are just the beginning.
Consider increasing natural light with a skylight, how the paint color will affect how you feel in the space, and what amenities you'd like to include right off of the bathroom. Would a dressing room or the convenience of a laundry room make your routine more efficient and less of a chore?
#5 Creating More Space for Entertaining
Your custom home should include opportunities that make it effortless for you to entertain friends and family. For instance, if you enjoy hosting dinner parties, you'll want a large dining area that has enough room to seat all your guests together.
A large kitchen island is a must-have for entertaining, and a double island is even better. The inner island can be reserved for preparing the meal while the outer island is used for seating and a temporary bar or place to set out serving ware. Worried about the pile-up of dishes while the party's still going? Work with your designer to create a butler's pantry. This extra space off of the kitchen can serve as a place for used dishes, additional appliances, a second sink, and a wine fridge
#6 Statement Ceilings
In 2023, designers are noticing the trend of using the ceiling to continue a room's style rather than just a blank space. There's more potential there than many homeowners realize. Vaulted ceilings in the bedroom, coffered ceilings in the living room, and exposed beams in the kitchen are all popular ceiling design options that are being incorporated into custom home designs.
If a structural design feels like too much of a commitment, designers are also seeing a trend of painted ceilings. Leave your walls a neutral tone while adding color or just an alternative neutral for a more interesting accent. It's easier to change when you redecorate your space or just grow tired of the color palette
#7 Smart Home Technology
More sophisticated and widespread home automation continues to develop. From a single tablet, smartphone, or simply by voice command, Google Nest and Alexa now perform many household tasks and move tedious daily routines to the background. There are many ways of automating your custom home with smart technology.
In 2023, you'll notice less clutter with smart features like invisible in-wall speakers and out-of-sight air-conditioning registers. Smart window shades that are programmed to rise and descend with the sun make the most of the daylight while providing privacy at night without the hassle of opening and closing your window coverings throughout the day. Smart thermostats, security systems, lighting, and appliances will make your home run more efficiently, safely, and comfortably.
#8 Aging in Place
Custom home designs are featuring more and more conveniences that will help a homeowner age in place. A number of design elements can be included as a way to maintain your quality of life as you age and avoid having to move out of your home. Elevators to help you conveniently travel between floors without having to rely on the stairs, wider hallways and doors, lowered light switching and counters, and foregoing doorway thresholds that can be tripping hazards are just a few of dozens of aging-in-place design ideas.
#9 Personalized Features and Spaces
In the past few years, more personalization in the home has nudged out the uniformity of all-white or all-gray spaces. Trends in 2023 are all about what your personal styles and tastes hold rather than looking exactly like what you'll see in magazines. To create a personalized custom home, think about your routines and what brings you joy. Is it surrounded by color and treasured antiques, or is it a clean space with plenty of storage to stow away the day's clutter? The most popular trends shouldn't override your personal must-haves or favored finishes.
Your Custom New Jersey Home
Designing a custom home can feel overwhelming, with so many trends to consider throughout the entire process. To help you narrow down your personal and unique list of must-haves and possibilities, work with an experienced design-build team that can guide you through the rigorous process.

GTG Builders has been thoughtfully creating beautiful custom homes for New Jersey homeowners for decades with expert skill and focus. We understand that your custom home should be a reflection of who you are and the custom home you've always dreamed of while keeping you in the center of design decisions–all while creating an enjoyable process and stress-free experience. Contact GTG Builders to schedule a consultation and discuss your future custom home.