Kitchen remodeling is high stakes. It takes valuable resources: time, money, and energy. You don't want to look back in a few years and regret your design choices or, worse yet, feel like you need more improvements. Timeless kitchen design ensures that doesn't happen. It enables you to create the perfect kitchen optimized for your family's practical needs while serving as the home's command center for scheduling, storage, and entertainment. In short, it combines kitchen functionality and style to create a space that works just as beautifully as it looks.
When it comes to maximizing this master space in your Hunterdon County custom home, here are some big kitchen ideas and timeless design tenents to keep in mind:
#1 Find the Right Layout
All the most wonderful kitchens start with an ideal layout. Of course, the structure that is best for your space is highly dependent upon the size and setup of your home. The best way to find a suitable layout is to work with a capable architect or designer. They can assess your space and needs to devise a setup that satisfies all your requirements and promotes kitchen flow. However, if you aren't ready to hire outside help just yet, a good starting place is the kitchen triangle rule. According to the design principle, which has long been considered one of the most efficient ways to set up a kitchen, your sink, fridge, and oven should form a triangle. This setup makes it easier for you to carry heavy pots from the sink to the stove or transfer leftovers from the furnace into the fridge. It creates an ideal work zone and ensures your movements in the kitchen stay unencumbered.
Here are four of the most common kitchen layouts to give you a better idea of your options.
One-Wall Kitchens:
All cabinets and appliances located against one flat wall
Ideal for narrow or small spaces
Offers limited storage and counter space
Breaks the kitchen triangle rule
Galley Kitchens:
Two parallel walls of cabinets and appliances with a walkway in the middle
Suitable for small spaces
Conforms to kitchen triangle rule for workflow efficiency
May be too narrow for multiple cooks or through traffic
L-Shaped Kitchens:
Two perpendicular walls of cabinets and counters joined at a corner
Perfect for open layout homes
Lots of extra space for an island, seating, etc.
Allows space for multiple cooks and workstations
U-Shaped Kitchens:
Three connected walls of cabinets and appliances in a horseshoe shape
Excellent use of the kitchen triangle rule
Requires lots of space
Challenging to add an island or seating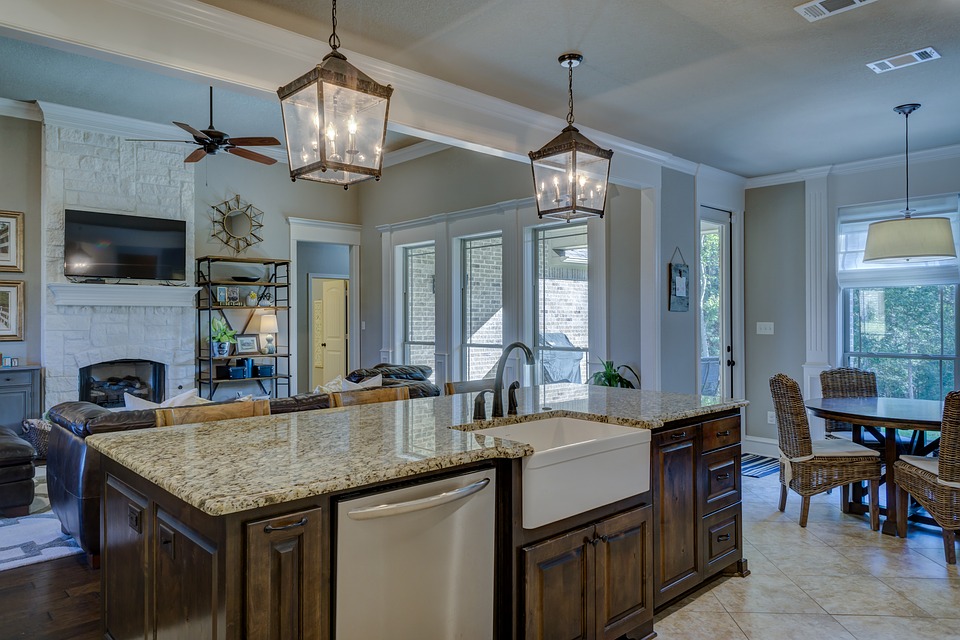 #2 Choose Classy Cabinetry
Cabinets are one of the first things you see when you walk into a kitchen. So, it's crucial to achieve a beautiful look without being overpowering. Though bright, colorful cabinets may create a cute kitchen in the here and now, they can come back to bite later on. Avoid trend whiplash by choosing neutral colors like white, cream, beige, gray, or even light blues and greens. Generally, it's best to avoid wood cabinets, as they often go in and out of style. But a light stain with a minimal grain can add a beautiful texture — if that's your style, go for it!
While your cabinets should be subtle, you don't want them to be boring — especially if they take up most of the wall space in your kitchen. Shaker shaker-style cabinets, a kitchen design classic, are an excellent choice because their recessed panels add depth and texture to an otherwise flat surface. You can also add contrast with two-tone cabinets. One way to achieve this look is to have your top and bottom cabinets painted in two different colors. Another option is to use two different styles of cabinets, such as mixing wood and painted cabinets.
#3 Lots of Light — Natural & Artificial
Good lighting is a must when designing a new kitchen. To start, add a good amount of natural light with the inclusion of a large picture window or multiple windows, if possible. Then, install task lighting around areas like the sink and stove, where you need to be able to see what you're doing. Once you have the basics out of the way, make a statement. Exciting lighting fixtures will make a significant impact on the appearance of your kitchen. Create drama by choosing pendant lights and chandeliers.
#4 Multifunctional Island
Islands are a modern-day classic and a must-have for many homeowners. They can be equipped with drawers, built-in appliances, and even an extra sink to provide additional preparation and cooking space. They're also ideal for kitchen seating. The kids can do their homework on the counter while munching on an after-school snack; similarly, when you entertain, guests can relax with a glass of wine and chat while you finish whipping up a meal.
#5 Solid Storage
You need an area to store dry food and goods, seldom-used appliances, and those Christmas plates you forgot you had. Sure, an island with extra storage capacity can help, but nothing compares to a well-organized, spacious pantry.
Fortunately, modern builders know a walk-in pantry or butler's pantry can seal the deal, so they've stepped up their game in recent years. Today's kitchen closets come with easy-to-maneuver shelving, statement doors, and even cabinets. Plus, since this space is an extension of the kitchen, don't forget to have fun with it. Play with color schemes and hardware to find that perfect fit.
#6 Stay True to You
Getting caught up in designing the most aesthetic kitchen possible is easy. However, a timeless kitchen is about you. It's about what you need to fulfill the needs of your home and family. It's also about staying true to your style and picking enduring design elements you know you'll love now and 20 years down the road. Sure, there are a few recommendations you might want to follow; that's why working with a professional team is so important. They listen to your input and find ways to incorporate what you want within your design. With their expertise to guide you, you're free to focus on choosing the elements that bring you the most fulfillment.
Contact the kitchen experts at GTG Builders to create your inspired kitchen design today.