When the weather is fine, you and your dog would love to get out and enjoy the fresh air and sunshine. Of course, while there are lots of places you can travel for a day trip or weekend getaway in New Jersey, you can't count on being able to take your dog everywhere. That's why we collected a list of the best dog parks in NJ, along with a few spots that might be perfect for a longer visit.
Fun Places to Take Your Dog

in NJ

There are a lot of great pet-friendly places to go. Here is a list of our favorite parks to hike or bike with your dog, as well as some amazing dog-friendly beaches in NJ.
Freedom Park
Freedom Park is rated as one of the best dog parks in NJ, and it's easy to see why. Located in Medford, Duke's Dog Run inside the park has 20 beautiful acres of leash-free space where dogs can run around and play in the creek. You'll find plenty of parking and a place to sit down while your dog makes new friends and burns off some energy.
Saddle River County Park
Saddle River County Park has almost every activity you could possibly imagine, from a great bike trail to ice skating in the winter. And there's no surprise how it works, as there are actually five park areas combined into one. If your dog likes to get a lot of exercise, you'll find lots of exciting things to see. You can also stop at the fenced dog run near the wild duck pond.
Ramapo Valley County Reservation
One look at Ramapo Valley County Reservation ought to get you and your dog barking for more. The park offers an amazing 21 miles of loop trails, all within convenient walking distance of the parking lot. As you walk, you'll enjoy stunning panoramic views that will take your breath away in any season.
Riverside County Park
If you're looking for a day out, the Riverside County Park in Bergen County is a great place to take your dog. With an off-leash dog park, you can take a break while your pup chases a ball or interacts with others.
Brigantine North End Beach
Brigantine is a city with amazing views from almost any direction. With a long strip of white, sandy beaches, natural areas, and wildlife preserves, you'll find much of New Jersey's coastal beauty right here. At Brigantine North End Beach, you can take your dog any time of the year. Feel free to park right on the beach, clip on a leash, and walk or relax in the sun to your heart's content.
1. Lambertville, NJ
You don't have to go far in any direction to find a wonderful getaway with your favorite dog. Lambertville, right on the edge of Hunterdon County, offers entertainment, great dining options, and a relaxing place to stay. You'll find a wide variety of accommodations that are happy to accept pets, including:
Lambertville Restaurant and Inn
Carriage House of New Hope
Clarion Inn & Suites- New Hope/Lambertville
During the day, you can take a walk or bike along the Delaware & Raritan Canal State Park trail. When you're ready for a meal, bring your dog along to DeAnna's Restaurant & Bar and the Lambertville Restaurant and Inn.
2. Cape May, NJ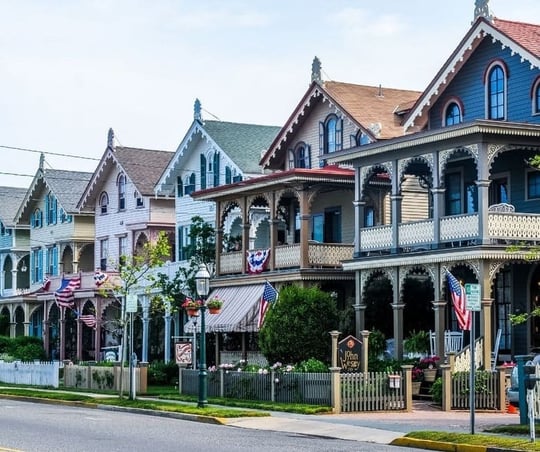 Want a spot with plenty to do and a lot of fun for your dog? If you're looking for great dog parks in South Jersey, Cape May is definitely the right place to visit. The city has lots of pet-friendly accommodations, including campgrounds, home rentals, and inns. That's just one of the reasons we consider it one of the best summer getaways. The extensive list of outdoor dining options makes it easy to bring your dog with you. The Cape May City Dog Park offers safe and friendly fun for the pups, as long as you apply for a license. Cape May also makes an excellent off-season vacation, because most of the beaches are open to dogs from November to March.
3. Asbury Park, NJ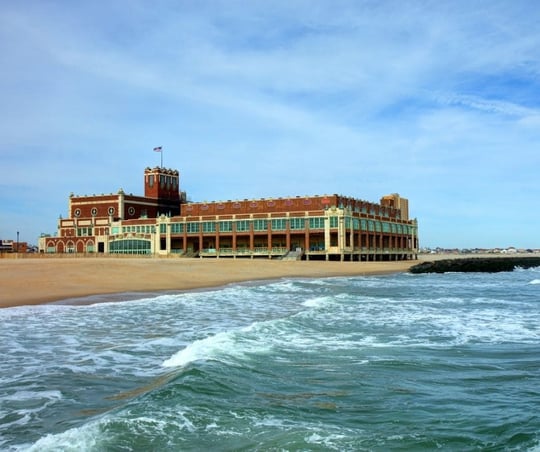 Planning to center your trip around your pets? Asbury Park is a great choice. As one of the most pet-friendly cities in NJ, you can find lots to do. Ready for a meal? Check out Pop's Garage or the Brickwall Tavern and Dining Room. Looking for a place for your dog to really run the show? Pay a visit to the Wonder Bar during "Yappy Hour" for live music and great food. And when you're ready to take a dip into the water, the 8th Ave Dog Beach is ready to help you have fun. It's a wonderful spot, especially if your pup likes to meet new friends.
4. Egg Harbor Township, NJ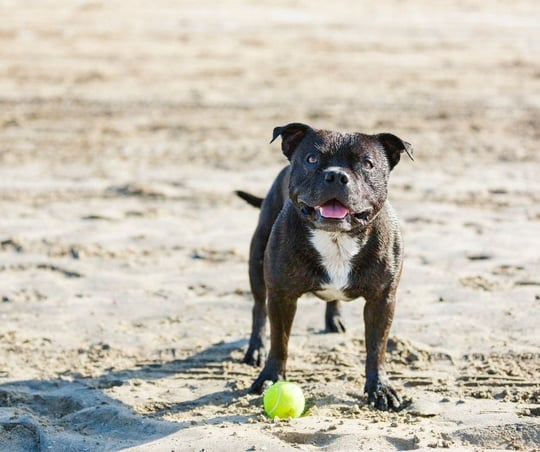 If you're thinking about a trip to Atlantic City, you might find more than just the conventional in nearby Egg Harbor Township. Most notably, you've got to take your dog to Longport Dog Beach. Sometimes just called "Dog Beach NJ," you get an off-leash space where your pup can splash in the water or make tracks along the beach. For a little more structured time, try the Atlantic County Bikeway. The bikeway starts in Egg Harbor and runs for several miles.
You won't miss when you take advantage of these dog-friendly spots this year. While you're visiting, you might decide to settle down and build a custom home. For a custom home that meets all of your needs, you'll need an expert like GTG Builders. To learn more about our services or talk about your dream home, contact us today.