5 Min Read
Best Golf Courses in Hunterdon County, NJ
With beautiful scenery and a mild climate, you'll find premier golfing easily accessible in Central New Jersey—making this region a great location for any golfer's personalized dream home.
From exclusive, members-only benefits to unique, championship-level course designs, there are plenty of benefits to becoming a member of a private club. Beyond playing golf in a more controlled and private environment, many clubs also offer fun social events and activities for the entire family.
Whether you're simply looking for fresh air and a social atmosphere or a challenging course that will test your skills, here's a list of the best private golf clubs in New Jersey to help you find your new favorite.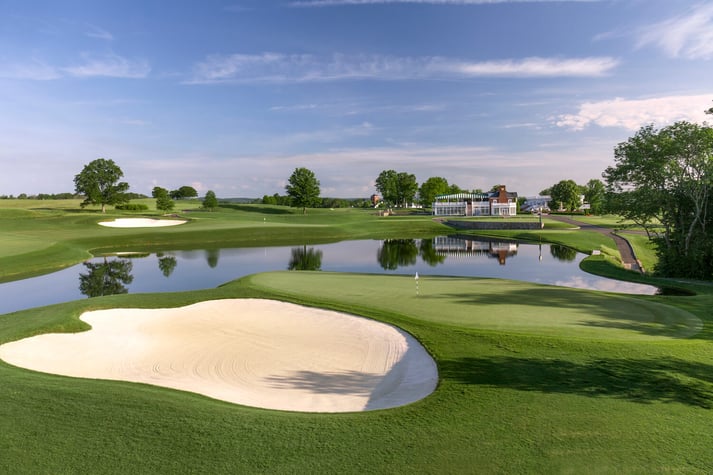 Jasna Polana in Princeton, NJ, is a private country club featuring an award-winning course and is widely considered one of the top golf courses in the state and beyond. The club is an official member of the Tournament Players Club network and is operated by the PGA Tour. The club has also previously hosted the Instinet Classic on the Champions Tour.
World-renowned golfer, Gary Player, designed the par 72,18-hole course. The course features five sets of tees on each hole. Players say the course is extremely well-kept and offers unique challenges, making it a great course to hone your skills. The fully-stocked Golf Shop and 3.5-acre practice facility provide even more opportunities to improve the same as the professionals do.
Originally the country home of John Seward Johnson I of Johnson & Johnson, the property includes a 46,000-square-foot clubhouse with panoramic views of the grounds and rolling hills of Princeton.
Inside the lavishly decorated mansion, members enjoy dining in a grand, sophisticated setting with cuisine prepared in-house by the Club's executive chef and culinary team. For the wine aficionado, the club also boasts a private wine cellar accommodating up to 10, and hundreds of bottles of wine for an expansive wine list.
Jasna Polana is an exclusive club, so new membership is limited. Though, they do offer several package options like corporate, personal, dining, and young professional memberships. To inquire about new membership availability, contact the club.
New Jersey National Golf Club in Basking Ridge, NJ, hosts a par 72, 18-hole course with a versatile layout that aims to meet the needs of golfers of many skill levels. Designed by Roy Case, the course spans 6,912 yards and is known to be an enjoyable challenge.
This club also features a locker room, pro shop, and restaurant, the Red Oak Grill—specializing in American cuisine with international influences. The restaurant overlooks the scenic course and members of the club can enjoy a private, members-only patio.
Members of New Jersey National can also access golfing privileges at four championship courses in the region under the Club Max program. Members of this private golf club program can enjoy several championship courses to choose from, rather than a single 18-hole course.
New Jersey National offers several membership packages, including individual full membership, junior and executive membership, weekday membership, and corporate membership. To express your interest in joining the club, contact the club.
Springdale Golf Club in Princeton, NJ, is located close to the historic campus of Princeton University. One of the oldest and first private golf clubs in the state, Springdale Golf Club was first formed in 1895 and today serves as the home course for the Princeton University Men's and Women's golf teams.
The par 71, 18-hole course is walkable and features tree-lined fairways, challenging bunkers, and elevated greens. The course overlooks Princeton University's historic campus and buildings and adds to the unique and exciting golfing experience. The club also features a pro shop with expert advice and plenty of golf instruction opportunities, a state-of-the-art practice facility, and frequent tournaments.
The club has a rich history and often celebrates Princeton's cultural and academic heritage. Beyond golf, Springdale Golf Club offers a range of social and cultural events for its members, including wine tastings, art exhibits, and musical performances.
Exclusive to members, the clubhouse is home to a formal dining room, bar, and comfortable lounge area. With its cozy fireplace, beautiful views of the course, and elegant décor, it's the perfect place to relax and unwind.
The club offers several categories of membership, including individual, family, and young professional memberships. To start the process, prospective members are encouraged to inquire about joining and receiving a personal tour, though new openings in membership could be limited.
Baltusrol Golf Club in Springfield, NJ, is a legendary golf club popular for its championship-level standards and storied past. Originally built in 1895, the course and grounds have evolved and grown over the years alongside the game of golf in the U.S.
Today, the club hosts two 18-hole courses: the Lower and the Upper. Designed by famed golf architects A.W. Tillinghast and Rees Jones, they offer a variety of shot values, including tree-lined fairways, deep bunkers, and strategically placed hazards, providing an exciting and challenging golfing experience for players of all skill levels. Together, the two courses have hosted 17 major championships, including seven U.S. Opens and two PGA Championships.
Tragically, the original home of the property was destroyed in a fire in 1909, but later that same year, the Tudor revival-style clubhouse was exquisitely constructed using brick with stone trim, decorative stucco, and half-timber detailing. At over a century old, the club has carefully and thoughtfully cared for and expertly restored the historic structure.
In the clubhouse mansion, members enjoy features like elegant dining rooms, a bar, and comfortable lounge areas, providing the perfect place to relax and unwind after a round of golf.
The club is exclusive when it comes to inviting new members. To become a member of Baltusrol, prospective applicants must be sponsored by a current member and go through a lengthy application process.
Located in Bedminster, NJ, Trump National Golf Club Bedminster is also located close to New York City. Ranked as the best of 19 clubs operated by the Trump Organization, membership at Trump National includes exclusive member access to all Trump Golf properties, both domestic and international.
The club hosts two-18 hole courses, designed by Tom Fazio and Tom Fazio II. The courses feature stunning views of the surrounding countryside, challenging layouts, and friendly and attentive staff. Members can also utilize the state-of-the-art practice facility, with a large putting green, chipping area, and a driving range with both grass and mat tees.
In addition to the golf courses and professional-quality practice facilities, the club has amenities like aquatic facilities, jacuzzi spas, tennis and paddle facilities, and entertaining social events. The extraordinary 1939 Georgian Revival manor clubhouse can accommodate personalized and extravagant weddings, special events, and overnight getaways.
Membership at Trump National Bedminster Golf Club is exclusive and selective. To start the process, prospective members should submit an initial inquiry form.
Live Near the Top Golf Clubs in Central New Jersey
If you're a lover of golf, Central New Jersey offers some of the best golf courses and country clubs in the country—plus all the exclusive amenities that are included with a private club membership. Whether you already live in the area or are considering if this could be the right place to build your dream home, you're sure to find the club that's best for you and your family.
The beauty and elegance of these private clubs may be inspiring you to find ways to bring this luxury back home to enjoy 24/7. If you're looking to design a home that perfectly fits your needs and wants from the ground up, you're likely the right candidate for the custom home-building process.
Ready to Make Central New Jersey Your Forever Home?
Hire design-build experts who understand the latest luxury home design trends and are ready to capture your unique vision. Contact us today, and we can help you get started and make your dream a reality.