5 Min Read
Living on Long Beach Island: A Q&A [Plus: LBI Real Estate Trends]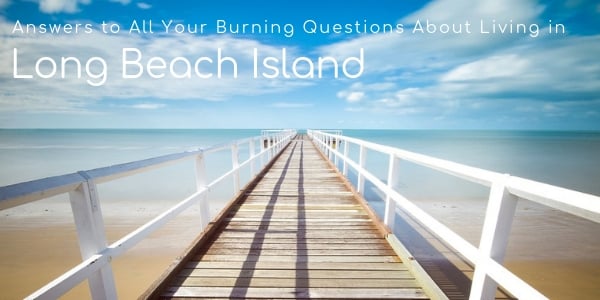 Building a new home in Long Beach Island can be one of the best real estate investments you will ever make in your lifetime. Consisting of 18 miles of beautiful white sand beaches, LBI has become one of the most coveted areas to live in all of New Jersey.
Up until the 1960s, LBI had a reputation of being an offbeat destination for the working class. At the time, the properties on LBI were mostly bungalow style houses and Cape Cods. For the last 50 years as the need for vacation homes has grown tremendously, the face of LBI has changed completely.
LBI has become an upscale location with more and more outdated properties being replaced by larger, modern homes
.
The amenities have changed as well in LBI. In years past, a significant number of new businesses have opened their doors—including day spas, five-star seafood restaurants, boutiques, and wine bars.
Patricia Sepenak, owner/broker of Sand Dollar Real Estate on Long Beach Island, has provided insight into the current and future market trends we can expect to see in LBI.
Question: What does year-round living on LBI look like?
Pat's Answer: As varied as the seasons are. During the summer we swell to 150,000 in population with the influx of our summer vacationers and the Island is in full swing. We quiet down in the Fall although this is really a beautiful time to be on LBI. The water is still warm which in return keeps our weather a few degrees warmer than the adjacent mainland. Crisp fall weather is perfect for long walks on the beach. The reverse is true in late Spring and LBI is a bit chiller in the later months of winter and early Spring. This is a time when many Islanders head further south for warmer climates. We are seeing a very strong weekend population as many families use their beach house in the off season, especially on long Holiday weekends.
Question: Would LBI be a good relocation option for retirees?
Pat's Answer: LBI does not offer any 'retirement developments' so we don't see many retires seek us out that don't already have a strong connection to LBI. Our retirees are mostly those that already own an LBI home and decide to sell the home 'up north' and consolidate into the shore home. It is a dream many have to be permanent LBI residents once they stop working.
Question: What are the hidden gems on LBI?
Pat's Answer: Art galleries are becoming more prevalent and offering every kind of original art work imaginable. There are some off the beaten path beaches, such as the southern tip of LBI with incredible views of the Atlantic City skyline. This is a perfect Fall walk and in early winter you may get a glimpse of the snowy owls that winter on LBI in this area. On the northern end, out in High Bar Harbor is a beautiful 'spit' of beach with views of the inlet and Old Barney Lighthouse. It is usually a quiet and serene spot as many do not know it exists.
Question: What's trending right now in LBI real estate?
Pat's Answer: Hot topics are the new occupancy tax that was passed on short term rentals that became effective in October of 2018. It took everyone by surprise and will cost the renter an extra 11.625% in taxes due to the State of NJ that rental homeowners need to forward and file on a monthly basis with the State. At this time, real estate companies are not required to charge those taxes.
On a more local basis we see a lot of action in the new home market, especially in the more upscale homes that are being built with elevators, outdoor entertainment areas and very upscale beachy décor/amenities.
Question: How do you help a buyer find the right town on LBI that will best suit their lifestyle?
Pat's Answer: LBI is comprised of six different municipalities. Long Beach Township is the largest, but it is not contiguous. It is probably easier to break the Island into 3 main sections. South, Middle and North. Many buyers come to us with their preferences already decided from years of renting on LBI. They have experienced LBI and know the 'area' that they wish to own a beach house. For those newer to the Island we try to get a feel for what the family looks forward to doing while vacationing on LBI. If the home is for personal use or for investment purposes and most importantly what is their budget. If they are looking for a quieter area and have a higher budget, then the North End may work; want to be near stores, restaurants and entertainment, then the South End might be a better choice - or want to be able to get on and off the Island quickly and are looking for an entry level beach house, then Central LBI would be a good area to investigate. This has become a very emotional purchase for many since LBI is becoming more a family gathering spot and a spot where you just leave the cares of the real world at home and concentrate on making wonderful family beach memories.
Moving to Long Beach Island may be the perfect opportunity for those who are looking for a place to go and unwind. Beaches are quiet and pristine, but nearby shopping plazas, chic boutiques, and even nearby Atlantic City helps you stay busy. For more ideas on what to do in Long Beach Island, read this other blog, 12 Restaurants to Try on Long Beach Island. By building a new custom home, you have the best of both worlds: preferred location and the square footage you desire. Whether you want a new summer home or a year-round permanent residence, LBI offers just the right fit.
Bonus: Living on LBI Year Round
Moving to Long Beach Island on a permanent basis can sound like a dream come true. Instead of traveling to the surf and the sand, you will have the seaside right outside your front door. Before you relocate permanently to LBI, take note of the differences between vacationing at the shore and living there year-round.


1 - Styles for Year-Round Living
Year-round living in LBI calls for a different type of home than those who just plan to vacation for a week or two at the shore. Space is not as much of a concern during an shore vacation since most days are spent at the beach.
However, year-round residents will want open floor plans with ample room for entertaining. Open floor plans provide better ventilation to prevent mold and mildew from forming. Instead of a quaint "cottage" style home, you will want more comfortable inclusions like master suites and modern gourmet kitchens.
2 - Weather Protection Considerations
Moving to Long Beach Island permanently requires a different type of residence than a summer bungalow rental. Weather protection is a major consideration when designing a custom home at the shore.
Zoning regulations require LBI homes to be built at a higher elevation in case of flooding or storm surge. Storm windows and shutters protect your property from damage during bad weather. Durable and high-quality building materials are needed to withstand the coastal elements. Roofing and flashing should be selected while keeping high wind conditions in mind. For more on building homes in a flood zone, visit our blog.


3 - Storage Solutions
When you live at the shore year-round, your storage needs will be different. You'll need room to accommodate seasonal items including beach chairs, patio furniture, bicycles, and grills. Due to zoning regulations, there are very few off-site storage facilities nearby LBI. However, if you do need storage for your boat, local marinas do offer this service.
4 - Home Safety
In the summer months, the population of Long Beach Island grows from 20,000 to 100,000. Many residents of LBI actually choose this time to rent out their properties or vacation elsewhere. If you do plan to leave your shore home for extended periods of time, you will want to enlist the services of a property manager to make routine checks at your home. Additional security features should be in place too such as timer lights and surveillance systems.
5 - Research the Area
LBI is bustling with activity during the summer months. However, the cooler weather doesn't mean the entire town shutters until Memorial Day. Many restaurants and pubs stay open throughout the year including the Oyster Bar and the Gateway. Attend annual LBI holiday events such as Ship Bottom's Christmas Parade or the Christmas Tree Lighting in Beach Haven.
Moving to Long Beach Island year-round is a decision you won't regret. Many permanent residents find they end up preferring the quiet beauty of the winter and enjoy the "off-season" just as much as the rest of the year. With the right custom home design, you will thrive in your new LBI residence for years to come.


Additional Information on Long Beach Island: