3 Min Read
Are You A Good Custom Home Client?
Building a custom home means you'll get to choose the best layout, finishes, style, and types of rooms for your family. It's also a very involved process that might not be right for you, at least not at this time. How will you know if you're a good custom home client?
Watch the video or keep reading!
What Makes You a Good Custom Home Client?
The idea of designing your own custom home can be exciting, but it's not for everyone. How can you decide if the custom home-building process is right for you? Here are a few questions and insights to help you figure out if you'd make a good custom home client.
Are you excited about designing your own custom home?
Designing your own custom home with every aspect made specific to your style should excite you. When you're excited about the process, your experience making decision after decision will go more smoothly. Designing your own custom home will take months of availability, frequent communication, making decisions, and coming up with solutions.

Is the timing right?
Because the process for designing and building a custom home will require your availability and energy, it's a good idea to really consider if the timing is right. If this process sounds too demanding, perhaps a custom home either isn't the best route for getting a new home for you or it's just not the right time.
If there are life circumstances that would make this process too difficult to commit to right now, but you're still interested in a custom home, waiting until the timing is right is the best option. Waiting can be hard, we know. However, it's best to make sure that taking on a project won't be too disruptive.
Understand why the price of a custom home can differ from a new home.
The nature of creating a custom home can mean it will cost more than a home on the market. This is because many potential custom home clients will want to choose features and finishes that are a higher grade than what's chosen for homes that are built without a specific potential homeowner in mind.
Many homes that are built and sold by developers are designed using builder-grade materials. And, because the layouts are also often generic, like the placement of the rooms and the flow. Any additional nonstandard rooms, like a mudroom or butler's pantry, won't typically be included.
You're also not likely to find smart home features in a home on the market. Smart appliances, a smart thermostat and security system, in-wall Bluetooth speakers, and other features that homeowners want today aren't standard in market homes. And so, when a potential custom home client selects these features for their design, it will cost more, on face value.
Do you like the idea of having every part of your home specific to your needs and style?
As mentioned, homes on the market are built for a generic family with generic needs. When you design your own custom home's kitchen, you're choosing the colors, the backsplash, the kitchen cabinet layout and custom storage options, and your own appliances–all based around how you will use your kitchen.
A custom kitchen is a major benefit of building your own custom home. Every family and how they use their space is a little different, and you want your kitchen to be built for you, not for an imaginary family. Chances are, the kitchen cabinets in a home on the market won't have the type of storage you need. Perhaps the backsplash is tile, but you'd prefer the easy-to-clean sophistication of a slab backsplash, durable ceramic wood look tile flooring rather than vinyl tile, or the sink in the island rather than against a wall.
Buying a home means every part of the home was selected without you in mind: doors, hardware, paint colors, flooring material, everything. This isn't something that bothers everyone, but building a custom home means you aren't moving into a home that you'll want to renovate sooner than later.
Building a custom home means you're also in charge of choosing how energy-efficient or energy-draining the home will be.
The insulation package, windows and doors, the HVAC system, energy-efficient appliances, a heat pump, tankless water heater, a solar power system, water-saving fixtures, and in-floor radiant heating are all features that can reduce energy usage and save you money over time.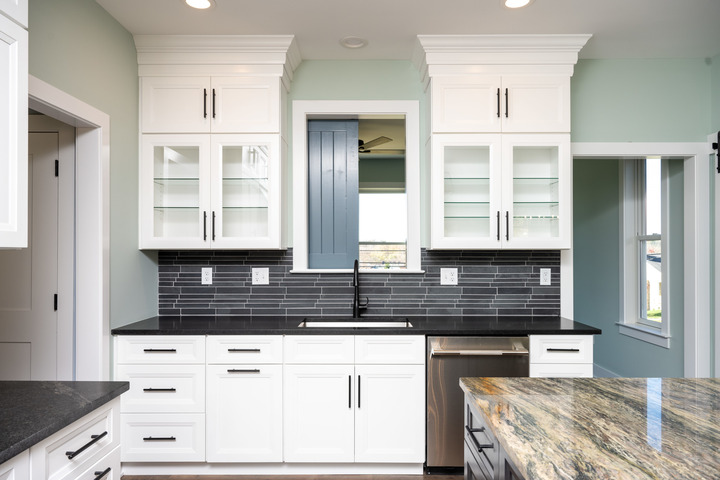 Are You a Good Fit for a Custom Home?
In our custom home process, GTG Builders work with you to design your perfect layout. If you want the freedom of selecting every design aspect and function aspect that goes into your home, you're the perfect candidate for a custom home.
We're very honest in talking to ppl about whether they'd be happy with our services. GTG Builders have a proven process that helps potential clients decide if we're a good fit for their project and if they're a good fit for a custom home. Contact GTG Builders to learn more about our custom home-building process.