3 Min Read
Creating the Ideal Outdoor Living Space to Elevate Your Central New Jersey Custom Home
When you aren't swinging at beautiful golf courses along Long Beach Island or swimming in the Atlantic, you may want to enjoy this summer in your own backyard. You could pull a couple of old lawn chairs out of storage and set them up for you and your guests, but those chairs are more likely to leave you with a sore bottom or back than anything else. Outdoor living in New Jersey doesn't have to be so bleak. You have much better options available.
Celebrate the summer in style with custom outdoor living spaces such as decks, porches, patios, gazebos, and the like. Have a cookout with friends, host a pool party — perfect for the kids' birthdays, or unwind after a long day by a crackling fire, taking in the fading sunset. With the right design, your outdoor living area facilitates not just a new part of your home but a new kind of lifestyle. Create the ideal outdoor space for you with these tips from GTG Builders.
First, Determine What Type of Outdoor Living Space and Where
Your outdoor living space starts with a what and a where. Consider what you want from your outdoor area. Do you want something close to the house for easy access or further away, so late-night parties don't bother slumberers? Should it be level with the ground or raised with railings? While you're at it, think about the location. Front yard outdoor living spaces aren't always an obvious option but can be just as beautiful and valuable as backyard alternatives. Where do you want your outdoor space in relation to other rooms in your household? If you want it to act as an entryway, put it right up against the front or back of your home. Otherwise, consider placing your outdoor area further out in the yard and installing a picturesque pathway leading from it to your home. Choose from decks and patios, gazebos built on decks, pavilions, and anything else you can imagine.
Cool Off With a Covering
Outdoor living spaces in New Jersey summer get hot. Patio bricks bake in the heat, scalding your bare feet, and sun rays assault you from above. But this problem is easily solved! Covered porches and decks or other outdoor areas cool off by a few degrees under shade, whether the cover is a solid roof or whimsical fabric. Add to the effect by installing overhead fans, planting shade-producing landscaping, and other features to help you stay cool this summer!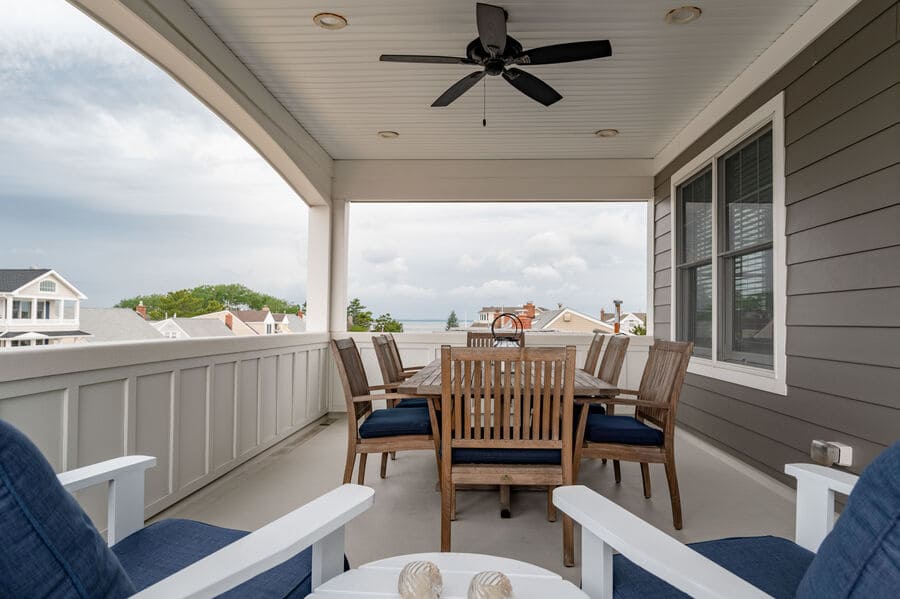 Choose a Centerpiece
All luxury outdoor living spaces have one thing in common: the wow factor. The wow factor is different for every project. Sometimes a design may have more than one. Favorite outdoor centerpieces include fireplaces — pit or built-in —, outdoor television, sumptuous couches, outdoor kitchens or grill stations, and showstopping pools. Choose yours based on your interests and what will get the most use in your outdoor space. If you love entertaining, a large outdoor kitchen and T.V. where you can watch the big game may be appropriate. Or if you prefer something more low-key, comfortable outdoor furniture and a fireplace equal a perfect summer evening.
Add the Necessities
Your outdoor living area can't just contain a centerpiece; you want to include everything you need for the ultimate outside experience. Storage space for sunscreen, bug spray, towels, citronella candles, and other necessities is a given. You'll also need room for pool floaties, games, snacks, and more frivolous items. Comfortable furniture, pillows, and blankets are a must. Lights to keep the area safe and accessible in the evenings are essential. You also may want to add an outdoor kitchen, grill, or bar. While deciding what necessities to add, ask yourself what activities you'll use your outdoor living area for and how the design can facilitate those uses.
Don't Forget Landscaping
A stunning luxury living area deserves to be complemented by landscaping that's just as beautiful. Plant bushes, trees, and flowers throughout your yard. Continue them close up to help integrate your outdoor living space with the rest of nature. For example, decks by design are off the ground by a few feet, but the bare siding can be an eyesore; cover it with blossoming plant life! Don't forget the hardscaping, either. Add stone pathways to and from your outdoor living area or a fence for privacy.
Improve Your Home & Lifestyle with Outdoor Living
The changes you make — minor as updating the landscaping or as big as building a new outdoor area — improve home value. They're a worthwhile investment for your home and, more importantly, your life. Imagine the joy of sipping morning coffee on your deck or playing with your family on the patio. An outdoor living area is all that and more! Don't wait; take the first step towards your new lifestyle today.