3 Min Read
Relationship Advice from a Custom Home Builder
Building a custom home is an experience that takes months or possibly more than a year. In many ways, it's like being married to someone. You need a good relationship with the builder, or there's a higher chance that you won't be satisfied. To have a good experience, you need to foster a relationship that works well for both parties. Here are a few tips to make building your custom home a great decision.
What Makes a Good Relationship With a Builder?
When you start searching for a builder, it's common to do a lot of online research into your options. But before you make a decision, be sure that you're giving weight to the most important criteria. That way, you can count on the builder to give you a home that you'll love.
Exploring Multiple Options
As you start to explore local builders, it's crucial to find one that is a good fit. You can absolutely start by asking for recommendations from New Jersey people you trust, as well as reading online reviews. Just keep in mind that you need to do more than browse online to make an educated decision. You'll need to talk to the builder to learn more about their experience, their kitchen styles, and other things you expect. Don't hesitate to invest as much time as you need into this step, because you want to be sure.
Reading Online Reviews With a Grain of Salt
When you start seriously looking for options for custom homes, you'll probably end up reading quite a few reviews for products you may want to use in the home. Online reviews can be useful, but they won't tell you everything. Many product reviews are more complicated than they seem because you aren't getting the full picture. You don't know if the person installing it had the right experience, or if the product was the best choice for the project. In order to round out the picture, you'll need to get more information from a pro builder.
Knowing the Experience of the Person Doing the Work
As part of your selection process, you should find out the experience of the person doing the work. This is more important than evaluating building material prices or the best brands for the job. Installers have more experience and more knowledge about the products they use every day. Without that experience and certifications in many cases, you can't count on them to follow builder regulations correctly. Think of hiring a builder as a complete package that includes products and services. If you like the package, you'll be more likely to get the result you expect.
Using Effective Communication
Communication is a key part of being partners in building. If you feel like you can ask your builder anything, you're in better shape. But communication is a two-way street, and you have to be able to understand and respect the answers, as well. If the reviews that you read are concerning you, and a builder isn't satisfying those concerns, you may need to look elsewhere.
Choosing a Builder You Can Trust
Selecting a builder is the most important aspect of your custom home. As such, you need to trust the builder's knowledge and experience without hesitation. If you keep finding more evidence that you think a builder is incorrect, you may not trust them enough to continue the project. Don't settle for the first builder you find without confirming that they are a good fit. Investing in the selection process lets you rest assured that you'll be happy with the result.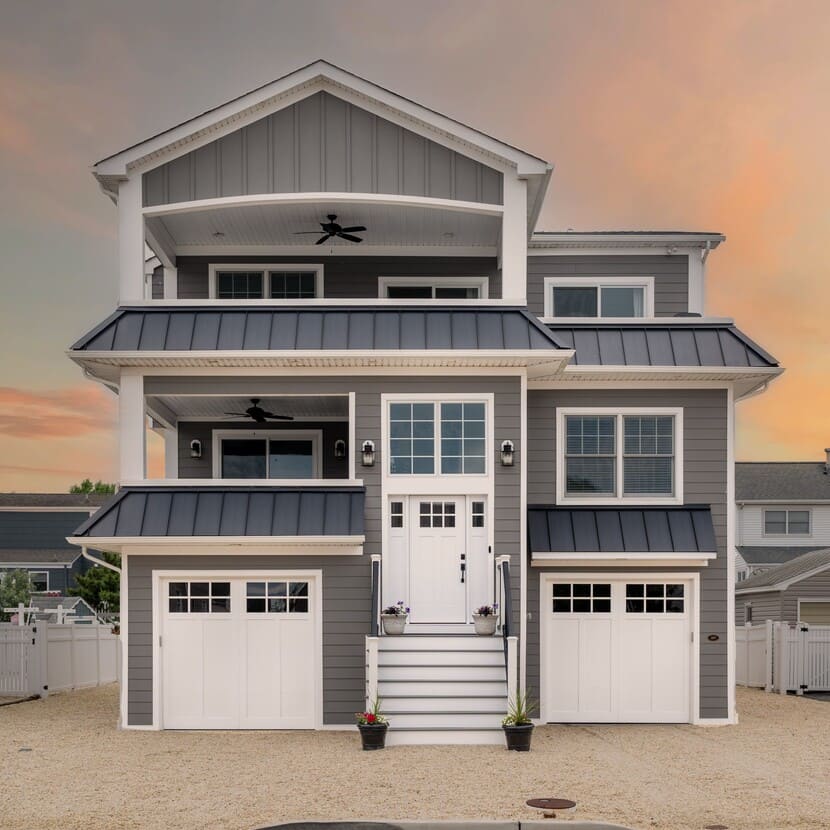 How to Build a Custom Home Step by Step?
The custom home building process takes time to plan and carry out, but you'll be glad you made the investment. As a design-build company, we have the experience to take your ideas and transform them into a home that meets all your needs. We do this with a detailed process, including:
Pre-construction meetings
On-site meetings
Change orders
A designated site supervisor
Excellent communication
You'll always have the latest information on your project status.
How Do You Deal With a Custom Home Builder?
Dealing with a custom home builder can be relatively simple when you know what you want, and you are ready to make decisions. Be up-front about your expectations and your budget. If you're looking for a specialty builder, including professionals who will help you build a custom home near Sky Manor Airport, it's a smart idea to ask about their experience first.
Is
Building a Custom Home

Stressful?

Building a custom home is a big investment. During that time, you may have moments where you feel stressed. But any major financial decision can be stressful, and there are ways to avoid it. Hiring a builder that you can trust makes a significant difference in the way that you feel in your new home. Wondering if now is the time to build your custom house? We can help.
What Do I Wish I Knew When Building a House?
There are a few things that people wish they knew when building a home:
It takes longer than you expect, sometimes more than a year.
You'll have to make lots of decisions, and sometimes you don't know the answers.
Hiring a builder that is a good fit for your ideas is the best investment you'll ever make.
At GTG Builders, we have spent decades developing a wonderful relationship with homeowners in the New Jersey regions we serve. Talk to us to learn more about how you can find a great builder for your custom home project.