You've planned to build a custom home for years. With diligent saving and patience, you're ready to start creating your dream home — you don't want to wait anymore. But news of high building material prices and a hot real estate market cooling down may have you wondering, "Should I wait to build a house?". Even though you're ready, now may not be the right time to build.
It's wise to have these concerns. While you might need to wait for a couple of reasons, for most of our clients, building a home in 2022 is a suitable option. If you're on the fence about the right choice, here are a few indicators to help you decide.
Is Now a Good Time to Build a House? Yes! And Here's Why:
Although it may seem like you should wait to build a home, the market doesn't always work how you think it will. Even if the market isn't ideal, now may be suitable due to timing and other personal considerations. Here are several reasons you might want to start as soon as possible.
1. Get Land While You Can
Finding a lot to build on is crucial to constructing a custom home. However, that is becoming more difficult for homeowners and builders alike. As more land is developed for residential construction, finding a vacant lot for your custom home becomes much more challenging. A recent survey by the National Association of Home Builders revealed that 76% of builders reported a low to very low supply of developed lots in their area; that's an all-time record. And it's only going to get worse over time.
Plus, not everyone can settle for any lot in any location — you've got to know the land is right before you buy it. In some cases, you have specific goals for the land, like room for your kids to play or space to keep horses. But, with dwindling inventory, you may have to settle for what you can get if you wait. Without land to build on, your home stays a plan; don't let it.
2. Custom Homes Take a Long Time to Plan
You've probably heard about soaring lumber prices, which can significantly affect new construction costs. But if you haven't even started planning your custom home, the current pricing models are the least of your concerns. You have at least six to nine months from the beginning before you break ground and shop for materials. If nothing else, start on the planning stages right now. That way, when you're ready to start in the future, you'll have the foundation you need.
3. You Can't Predict the Future
The fundamental problem with trying to time a long process like home construction is that you can't predict the future. You might wait, only to see prices (and interest rates) go up significantly. With the demand we generally see in New Jersey, you can't count on prices going down, especially for land. Waiting too long might price you out of buying entirely.
4. You're Not Getting Any Younger
While you wait to build your custom home, you have to live with your current housing in the meantime. If you're stuck with a horrible commute or a structure that is starting to fail, that's a nightmare that could take years off your life. You'll have a variety of changes throughout your life, like expanding your family, changing your career, or sending the kids off to college. There's no time like the present to get the home you deserve.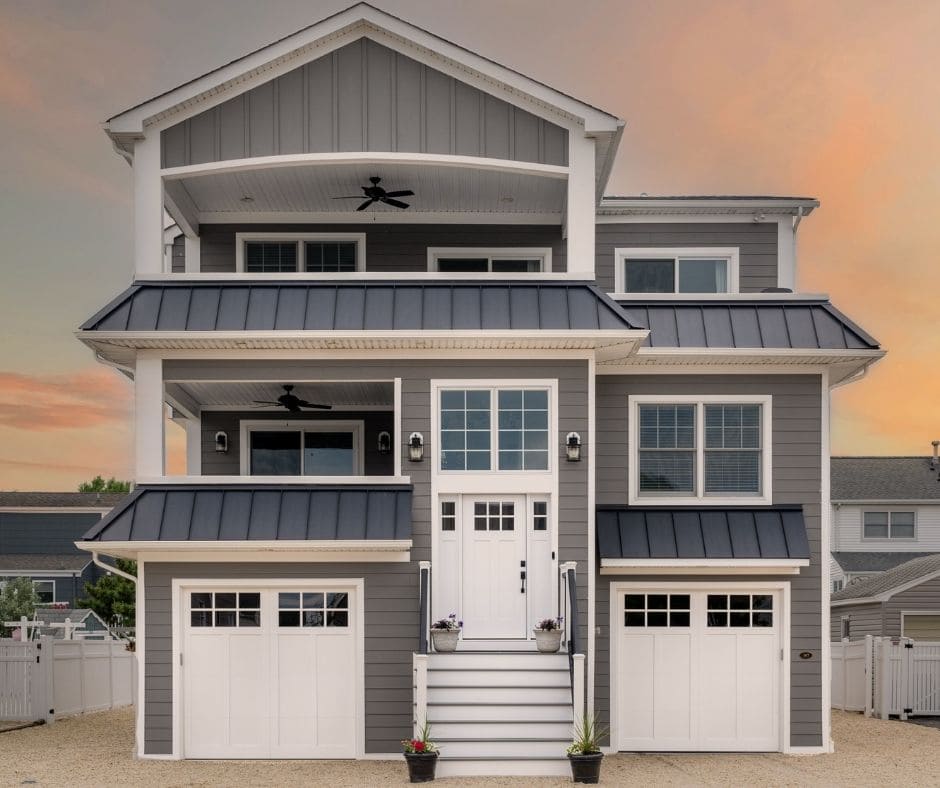 When to Wait to Build a Custom Home
Right now, there's probably still a little voice whispering doubts that have you second-guessing, "Should I wait to build a house?" or "Is it worth it to build a house now?" Let's address those concerns directly. Although most of our potential clients could benefit from building a home now, there are a few scenarios where it might be better to wait on house building for at least a year or two.
You Can't Afford to Build a Home
New Jersey's market for existing houses is extremely frustrating, but there's a reason for it. If you look at your buying opportunities and then start to search, "How much is it to build a house?" you'll notice a big difference in construction cost. The national average is about $300,000, not including the land. If you're not prepared to make that investment, it might be a good idea to keep looking for an existing home and prepare to build sometime in the future.
You Can't Wait for a New Home
Ultimately, you can't decide to build a custom home and move in a month or two later. By comparison, you absolutely can do that with existing housing inventory, even if the homes you see don't meet all of your expectations. Building a custom home takes a year or two, especially when you start at a busy time. If you have a tight deadline coming up soon, you might need a transitional home that gives you the room to breathe and plan your perfect house in the near future.
The Timing Isn't Right
Even if you have the money saved up and time to dedicate to building a new house, the timing still may not be correct. Building a home takes a lot of work — from you and your home builder. Before tackling a project of this magnitude, make sure you can do so. If you're going through a turbulent time in life or facing other significant life changes, this is a terrible time to take on another challenge. It's smarter to wait until things have settled down first — for many parents, this is once their kids graduate high school.
When is the Best Time to Build a House?
The right time to build a house is when you're ready. Of course, you need your finances figured out and your life somewhat settled. It helps to have ideal market conditions to work under, but that's by no means a necessity. Ultimately, you decide what timing is best for you. If you have the resources and time to build now, don't let anything hold you back!
Are You Ready to Build a Custom Home?
There are plenty of reasons to be excited about building a custom home. However, it's understandable to have concerns. Calm your fears and learn about finding a home site, creating a budget, negotiating contracts, designing your home, and more with this Custom Home Guide from GTG Builders. It's your house; now it's time to build it. Contact us with questions or to get started. It's your house, now it's time to make it.