2 Min Read
Custom Home Design: Should I Start from Scratch or With a Stock Plan?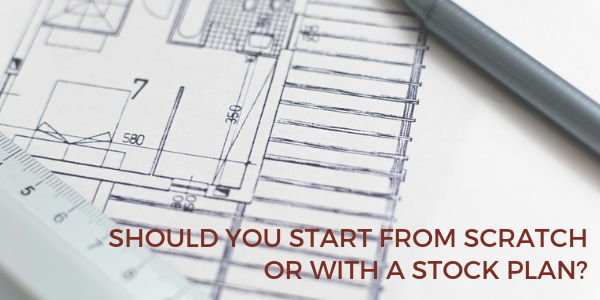 You've decided you are going to build a new home. Not just any home, but one that is fully customized to your unique lifestyle. But where and how to start?
One of the big decisions that goes into planning a new custom home building project is what your new home's floor plan design should look like. A common dilemma is whether to use a stock house plan or start from scratch. There are several advantages and disadvantages associated with both options. In most cases, your personality and design goals will determine what will work best for you.


Why a Stock Plan?
It is very easy to become overwhelmed early on in the custom home design process. Looking at a blank piece of paper and plotting out your dream home is not as easy as it sounds. Plenty of new homebuilders want to have a stock plan as a starting point. Many individuals enjoy the process of researching online and scrolling through dozens of floor plans offered by various builders or from websites like Houzz. With the large availability of stock floor plans, you will likely find an appealing style. Architectural styles available through stock floor plans include Craftsman, Colonial, Modern, Victorian, and everything in between. You may like the idea that a stock plan has been been built before and has a proven track record of structural soundness.
You may, however, not like the idea that many others live in the same exact home footprint as you. Plus, not all online stock plans will work with your specific lot. New Jersey home plans must meet local building codes and modifications may be required—even with a stock plan.
In general, a stock plan simply won't allow you to express your own unique vision of what the flow and design of your new home should be. For this reason, most folks that have the budget available will opt to build a customized home to fit their unique lifestyle and wants.


Benefits of Custom Design Plans
Some individuals know that a custom design from scratch is a must for them. They want a unique home that isn't built from a generic design. You may have a clear vision of exactly what your new home will look like.
The good news is starting from scratch is not as complicated as you may think. Architects have a process that they follow to walk each client through. You will be in constant communication, exchanging ideas and feedback, until your dream floor plan comes to fruition. Creating a home plan from scratch also helps you design your home to meet your budget goals.
Working with an experienced New Jersey Custom Home Builder will ensure all building codes are met and the floor plan accommodates your specific lot. For instance, certain structural elements may be needed for rocky terrain or a sloping lot. From scratch, you can further pre-plan and create a home that meets your needs in the future. For instance, families with young children may want bedrooms with larger closets and private bathrooms to anticipate when the kids enter the teen years.
One of the only drawbacks of starting from scratch is finding your truly trusted professional to create your dream home. Your best bet is to do your research and check references to ensure that you find a New Jersey Design Build Firm that will walk you through all the details, from start through your final walk-through and moving into your new home.
In conclusion, if you truly want a home that represents your lifestyle and taste, build your one-of-a kind home and work with a custom home builder to arrive at your very own home design.